Not all of your customers are blessed with long, luscious eyelashes, but fortunately, you can address their eyelash woes with eyelash extensions. Eyelash extensions are semi-permanent lashes that you can glue onto your natural lashes individually. They impart a stunning, striking look and have become quite the trend in the fashion world.
However, in your hunt to find good eyelash extensions for your salon or eyelash studio, you will likely come across several of them—some made of silk, some colored, while some are all-out dramatic. And then, there are half-eyelash extensions, volumizing lashes, and bottom eyelash extensions. Yes, eyelash extensions have come a long way. So how do you know which one to choose?
This article will help you gain insider information and help your customers achieve their perfect lash look with the ideal set of eyelash extensions. Read on to find out about the different types of eyelash extensions that are in vogue.
What Is The Most Popular Type Of Eyelash Extensions?
Eyelash extensions help achieve those big, beautiful lashes that celebrities flaunt. If you are a makeup artist, you can go minimal with the rest of your client's makeup when you draw the focus to their luscious, dramatic lashes. Eyelash extensions are a hassle-free product that offers dramatic results.
Here are a few of the most popular types of eyelash extensions in the market:
Mink Eyelash Extensions
Mink eyelash extensions look and weigh similar to soft feathers. They are very comfortable, and you can put them on effortlessly. They are fluffy and long-lasting. You can use them to help your customer achieve either a natural or dramatic look.
Silk Eyelash Extensions
If your client's natural eyelashes are fragile and scarce, silk eyelash extensions are a great pick. Compared to their synthetic counterparts, they have a long shelf life and are very lightweight. Your customers will barely feel the extensions on their lashes.
Synthetic Eyelash Extensions
These are firm eyelash extensions that are polished and thick. They usually have a coat of acrylic material on top and a glossy finish. Synthetic eyelash extensions are easy to style and do not cause damage. Not to mention, they are eye-catching.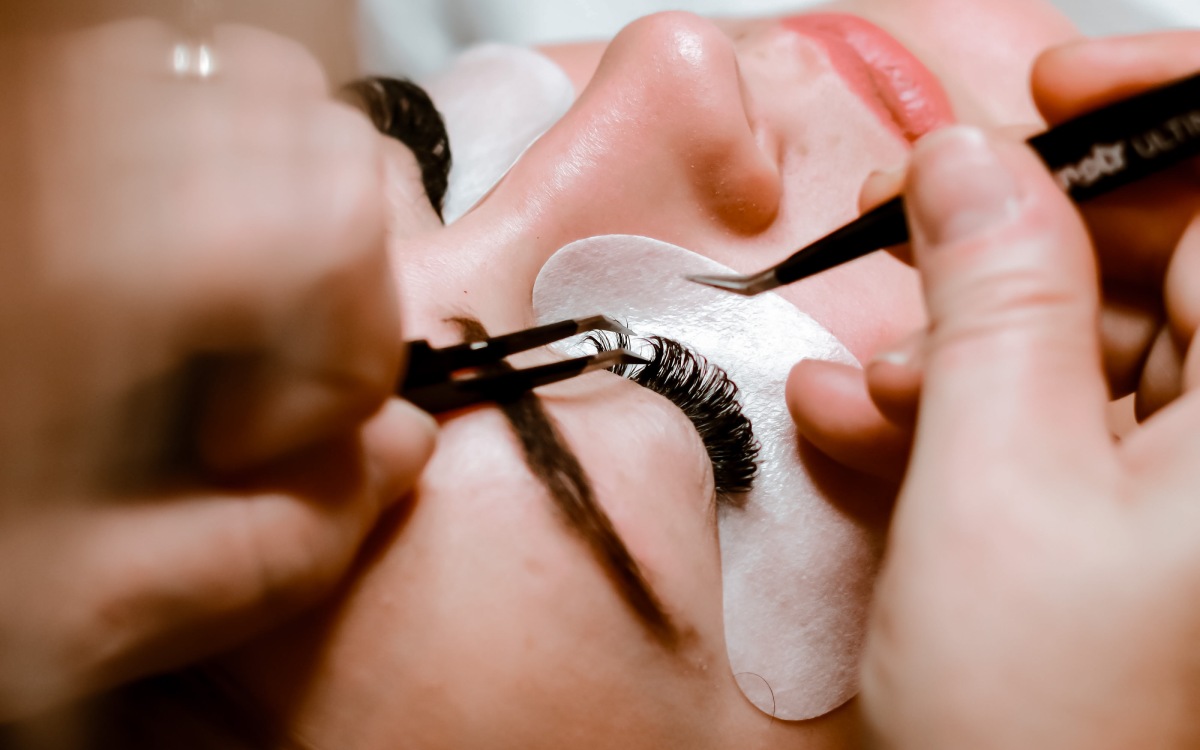 Eyelash Extensions That Are Trending Today
Most trends emerge from the beauty and entertainment industry. Many people are very particular about their eye make because it makes them feel attractive and empowered, giving rise to various trends and fads.
Here are some popular eyelash extensions that have made an impact on the beauty market. These are trending worldwide.
Russian Volume Eyelash Extensions
Russian Volume Eyelash Extensions, as the name suggests, originate from Russia. They help to add volume and improve the texture of an individual's existing natural lashes.
You'll need to apply for these extensions in a fan-like shape. These thin and delicate lashes look similar to classic eyelash extensions and are made out of synthetic fibers. To achieve a dramatic, voluminous look, you need to apply more than one eyelash individually to every natural lash.
If you've had an experience where your customer had gaps between their natural eyelashes, and none of your artificial eyelashes could fill them, you should try Russian Volume Eyelash Extensions. You can glue them on easily and fan them out for a completely natural look. They have a lifespan of around four to six weeks.
Another great benefit of these extensions is that the eyelids do not feel heavy and are tough to lift because they are lightweight. They require significantly less adhesive to stick to your customer's natural eyelashes.
Half Eyelash Extensions
Not a fan of complete sets of eyelash extensions? Go for half eyelash extensions instead. They give the same, if not better, output. Using half a set instead of a complete set of lashes will not compromise the result.
We usually apply these lashes in three ways—to fill in any gaps between existing lashes, on top of the natural lashes to make them appear fuller and more noticeable, or on the edges of the eyes for a voluminous look.
Half eyelash extensions are straightforward to apply and remove. Half eyelash extensions are hassle-free and more comfortable than complete sets.
Kim K Eyelash Extensions
Have you ever noticed the world's favorite beauty and fashion influencer and celebrity Kim Kardashian's beautiful long eyelashes? Her gorgeous lashes have inspired many eyelash extension sets. Kim claims her lengthy, voluminous eyelashes to be real, but sometimes, she doesn't hesitate to add a few extra ones.
Place the fake lashes at the edge of the eyes using suitable glue and tweezers. Place the lashes along the contour of your eyelashes to achieve a good curvature.
Here is one of Kim's fantastic hacks that you can try.
Prime your customer's lashes with a good coat of concealer before you apply the mascara for a fuller and alluring look.
Ombre Eyelash Extensions
Bored of the traditional black eyelash extensions and want to impress your customers with something more striking?
A subtle hint of color on the tips of your eyelashes is the new eyelash trend you can't overlook. Ombre eyelash extensions add a beautiful pop of color to the eyelashes without making them appear tacky and too striking.
Whether it's the festive season or the party season, ombre eyelash extensions never go out of style. Ombre Eyelash Extensions are usually black and blend into different colors like deep blue, green, or brown.
Bottom Eyelash Extensions
A single set of eyelashes may not be able to achieve the alluring look you want to help your clients achieve. Bottom eyelash extensions are shorter, thinner, and lengthier than upper eyelashes.
You can add just a few pairs of extensions on the lower eyelids to give your client a full and voluminous look that stays on for a long time.
Bottom eyelashes make your eyes look more significant and more balanced. It gives an impression of a sleeker and longer face and doesn't take too long to apply too.
Silk Eyelash Extensions
Silk eyelash extensions are one of the most long-lasting types of extensions that many users prefer. If your customer says they have weak natural eyelashes that break off easily, silk eyelash extensions can be a safe bet.
Yes, they are incredibly soft (the name might have given that off) compared to other sets and come in several curls, lengths, thickness, and more. Whether your client wants an au natural look or something more dramatic or fun, you can always help them achieve it with silk eyelash extensions with complete trust.
Some brands sell 100% pure silk eyelash extensions made out of natural silk, while others sell synthetic silk fiber extensions.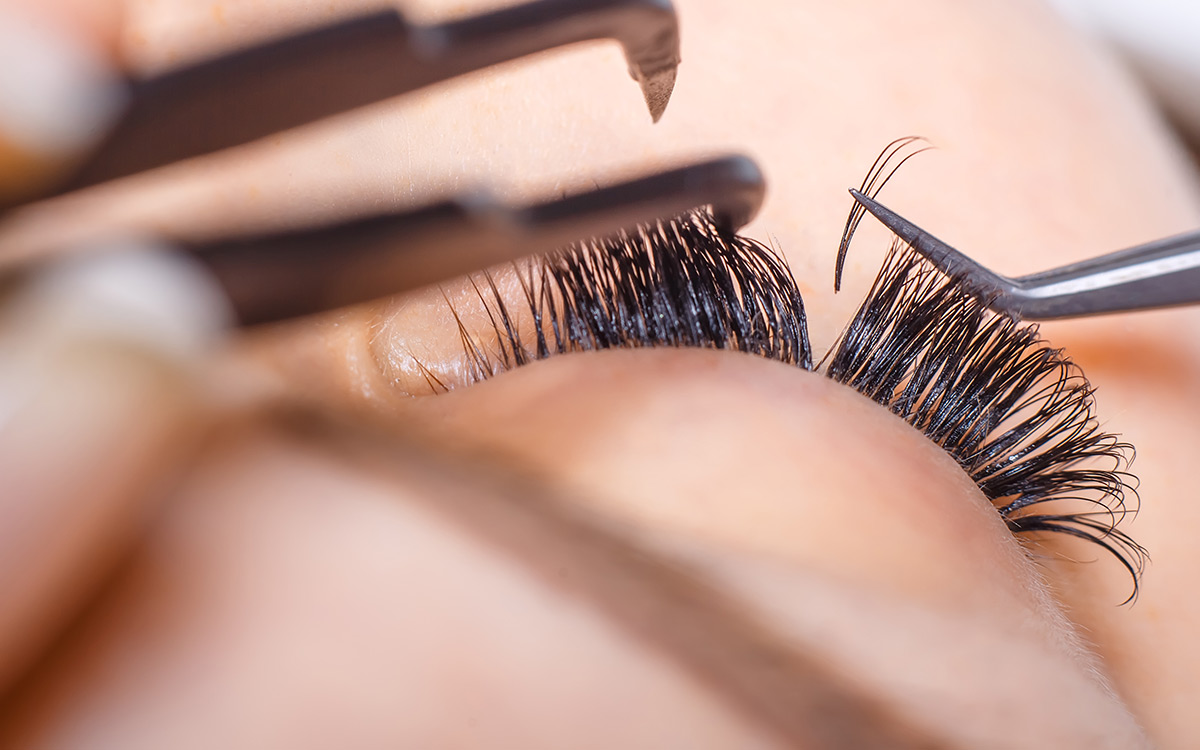 Tips On How To Care For Your Eyelash Extensions
Caring for eyelash extensions does require some amount of commitment and maintenance. If cared for and maintained well, they can last for six to eight weeks.
To increase the shelf life of the lashes, advise your customers to follow these tips. They will be sure to pay you a visit the next time they need their lashes done.
Here are some valuable tips you can share:
Avoid getting the eyelashes wet for the first 48 hours post-application of the extensions. Any amount of water on the glue used to stick the lashes on can weaken the bond and make the eyelashes come off.
After the first 48 hours are over, wash and clean your eyes regularly. This is to ensure you remove any built-up residue and avoid eye infections.
Wash the lashes with an exclusive eyelash extension cleaner or plain distilled water.
Use a brush with soft bristles to make your lashes look fresh and clean always.
Apply other eye makeup products with a lot of caution and care.
Sleep in a position that keeps the lashes from getting crushed, preferably on your back.
Avoid using eyelash curlers as they can damage your natural lashes too.
As for the technician, the next important thing to do is master the technique. Repeatedly using poor application techniques may damage the natural lashes. It is even more vital to follow disinfection protocols and take all the necessary precautions. Remember to use only high-quality eyelash extensions and the best quality lash glue. Using glue that contains formaldehyde can cause eye irritation, redness, and swelling.
Conclusion
Eyelash extensions are customizable, look real, and are here to stay.
But before choosing the one eyelash extension that you think suits your client best, make sure you understand the basics of eyelash extensions well.
The material, quality, length, volume, thickness, weight, and the color of the eyelash extensions are all critical factors to consider.
Something that suits one person might not suit the shape of another's eyes or help you get the kind of look you are attempting to achieve. Extensive research with lots of trials, hits, and misses is a fundamental part of purchasing eyelash extensions.
So now that you know the secret behind the luscious lashes that celebrities flaunt, amaze your clients with your lash techniques.