Do you remember the first time you tried something new? The event was probably memorable because it got you excited, nervous, and full of questions—all at the same time. This is the most likely how your first lash client felt when she booked that appointment!
Not only will the client be meeting you for the first time, but she will also be getting eyelash extensions for the first time. Hence, we've created this post to help relieve your customer's worries and improve her trust in you as you prepare to meet your first-time client.
While you are delighted for your client to receive a professional eyelash extension service, it is crucial that you inform her ahead of time that it will be a lengthy beauty process. Aside from cleaning your instruments and arranging your mink lashes and eyelash extension glue side by side, it's important you get her prepared before she arrives.
What we mean is that you should set your client's expectations so that they can plan the schedule accordingly.
Preparing Your Client Before the Appointment
Here's what your first-time lash client must know before the day of the appointment.
Take off all eye makeup
Before the visit, let her know that she must remove the mascara, eyeliner, eyeshadow, and other eye cosmetics using a water-based cleaner and pat dry with a lint-free towel. Let her know that curly lashes might affect the process of your work. It is preferable to let the lashes be in their natural form.
Reduce your fluid intake
To accomplish lash application with precision, the client must be there all the time. Too much fluid intake will result in frequent bathroom breaks, which can affect work accuracy.
Ask about her allergy triggers
Before the appointment, inquire about your client's allergies. If the client has a history of allergic reactions to adhesives, we recommend that she take an antihistamine before coming in to avoid flare-ups. Also, for your client's protection, have her sign a disclaimer throughout the appointment.
Avoid the use of mobile devices
While enjoying a peaceful appointment, she can listen to music or a podcast. She must, however, keep her phone in silent mode to minimize distraction and read text messages. Let your client know that she has to keep her eyes closed throughout the session for her safety.
Don't take caffeine or any other stimulant
Caffeine might cause the eyelids to flicker, making the lash application difficult. Excessive eye movement will result in wrongly applied extensions. Caffeine and stimulants can also promote restlessness in your client, which is inconvenient since she has to lie still for an extended period of time.
Put on comfy clothing
A fill-up session lasts around 40 minutes to an hour, while a complete extension process takes about 2 to 3 hours. Tell your client to put on comfortable clothing for a relaxed session.
Remove your contact lenses
Remind your client to come with her contact lens case and saline solution. To avoid discomfort and eye injury during the lash application, the client must take off her contact lenses.
Tell her how long it'd take you to finish
This will help a new client to plan the remainder of her day while also mentally preparing for a long session. While infill appointments may be faster, complete sets can take up to 2-4 hours.
Preparing for What Will Happen During the Session
Constant communication is essential during a client's first application. It helps to put her at ease since she is doing this for the first time.
Cleansing
Let your client know what you are doing each time. Before cleansing, make sure she's comfortable, then take her through everything.
Say something like this: "Hey Janet, to get started, I'm going to cleanse the region, so I'll have you close your eyes for me and you'll feel me gently cleaning your lashes."
Taping and under-eye pads
Inform your client that you are using the pad and tape to protect her bottom lashes. Explaining why you're doing what you're doing will help the client relax. Besides, it's good to educate first-time clients. It makes you look professional.
Say something like this: "Hey Janet. Right now, I'm going to put some under-eye pads and tape. This is only to keep your bottom lashes from clinging to your top ones and to keep the product from getting on your skin, okay?"
Mapping
Assuming you've previously discussed the style and desired goal with the client, if you prefer to draw on the eye pad, as most lash artists do, inform your client of your decision. Also, make sure she is comfortable with the eye pads.
Say something like this: "You'll feel my pen marking a few spots on the eye pad based on the style I'm trying to achieve for you. This serves as a picture for me as I work with various lengths. They're going to look stunning on you."
Begin lashing
Before you start the lashing process, remind your client that her eyes must be closed completely for the rest of the session. Let her know that this process is supposed to be painless and that if anything seems off, they should let you know so you can make the necessary modifications.
Say something like this: "Okay, let's get started. Please let me know if anything becomes unpleasant as we go! I can always make changes to ensure your comfort and relaxation."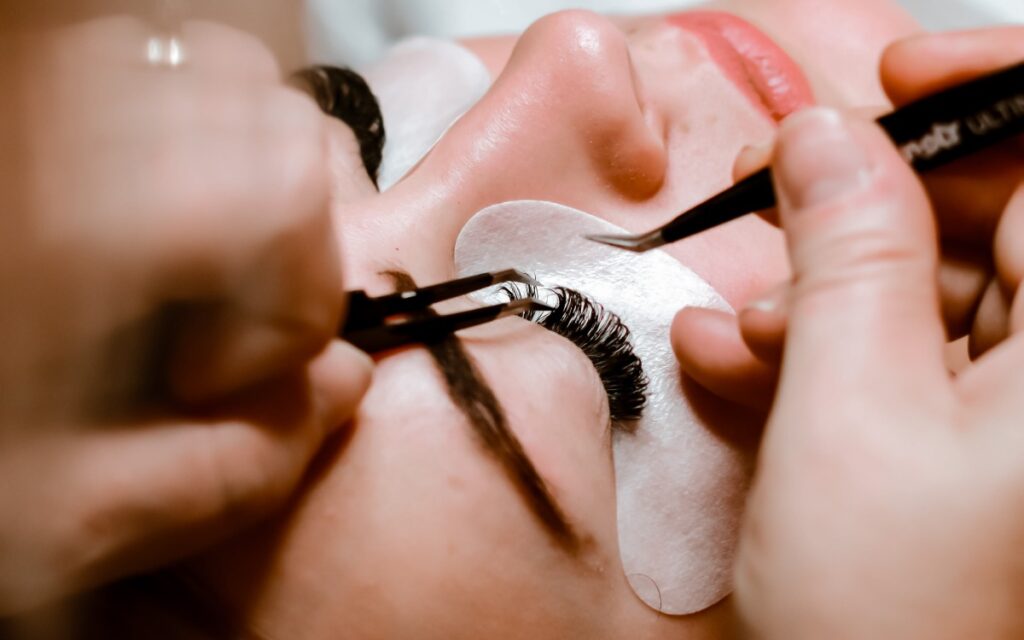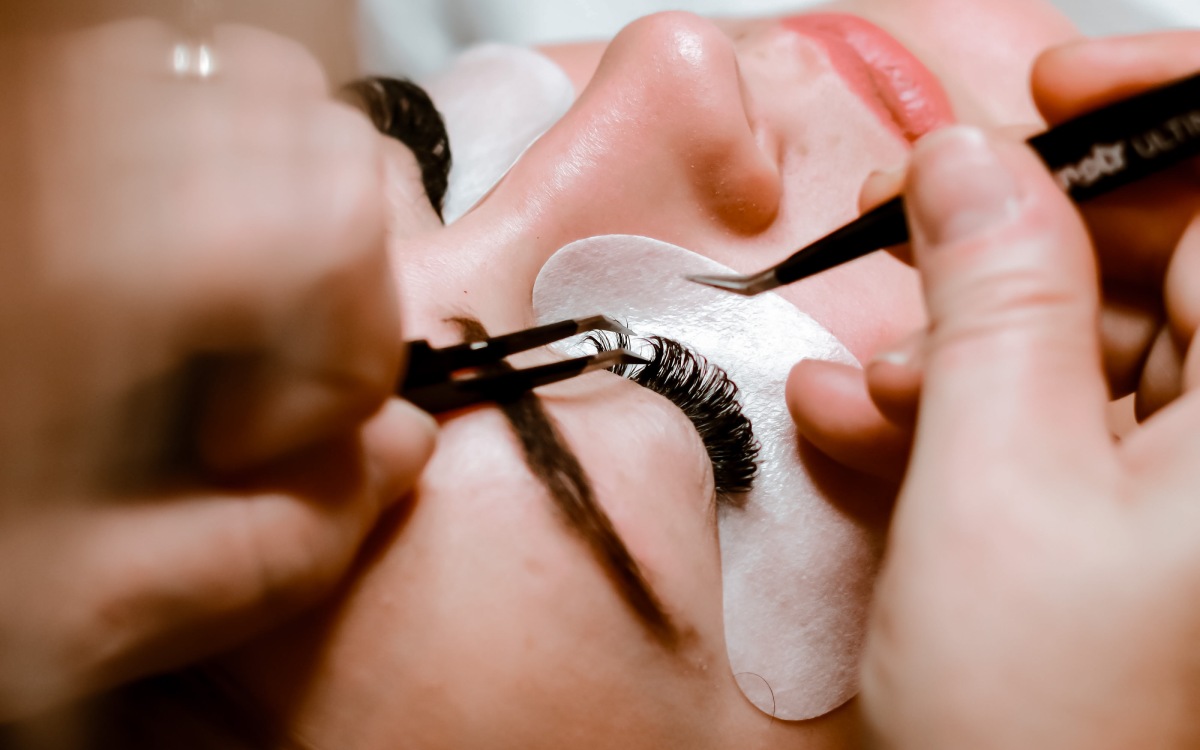 Preparing Your Client for What Happens After
Aftercare for lash extensions is very important, so make sure to give your client these instructions to get her ready.
If you are going to provide her with an after-care package, make sure the following aftercare instructions are in the bag, on a card, or sent via text.
Avoid using oils on the new lashes
Do not get your face wet for at least 12-hours after the session
Don't visit steam rooms or saunas
Clean your lashes once or twice daily to prevent the buildup of oils, dirt, makeup, and so on.
There should be no plucking or pulling on the extensions. If anything seems unpleasant, itchy, or painful, call me.
Explain the natural lash shedding process to her so she realizes that 2 to 5 naturals might come off each day and that losing a few is normal.
Also, explain why and when infills are required. Make sure your infill policy is stated explicitly to your new client.
Encourage the client to book her infill every 2-3 weeks to keep lashes full and plush.
After all, is said and done, it's crucial to educate first-time lash users right around the time they're ready to depart. Inform them about what is and is not normal.
What is normal?
Some people with high sensitivity may notice a slight redness and dry eyes immediately after lash application. That's why it's crucial to inquire about allergies and sensitivities ahead of time. However, let your client know that, in most situations, this goes away after an hour or so, so there's no need to be concerned.
It is natural to lose a few lashes each day (1 to 5). Don't be shocked if you see them now and then. When the extension is ready to come out, it is linked to the original lash and is replaced with a new lash. Some days you will not lose any, while others you may lose three or four. Let her know that it's natural and it doesn't imply her lashes will all come off.
Some lash cycles grow quicker than others. Every few months, you may notice that your lashes shed quicker than usual. It typically indicates that you have a lot of new growth and that when you come in, we will notice a lot more lashes to lash.
No two pairs of lashes are the same. Lashes are tailored to the style, sizes, weights, and curls to each individual's eye shape, lash condition and preferences. Depending on your eye shape, each style will seem different. So, even if you desire the same thing as your friend, your lashes may not appear all the same.
Expect to come in after 2–4 weeks for an infill. On average, clients return every three weeks on average for an infill. Sets with more lashes will last longer than those with fewer lashes. Shorter lashes often last longer as well.
What's not normal?
Severe itching or red/swollen eyes within the first few days following treatment. This might be the result of an allergic reaction. Unfortunately, they are unavoidable, but fortunately, they are treatable.
Excessive extension loss from natural lashes within the first few days. Tell your client to visit if there is excessive loss within the first few days so that you can troubleshoot and fix the issue.
If your eyes feel gritty and sandy after wearing extensions for a while, this might indicate that you need to clean your lashes more frequently/properly.
Conclusion
So, these are just a few things to go over with first-time clients to ensure success. These simple preparations will ensure that you can carry out your task with accuracy without interruption. This will also provide your clients with a sense of professionalism from your end, as you want to ensure their safety and comfort.