Everyone knows that clients are an essential part of growing your salon. Without them, your business cannot grow. Making it necessary to learn key tricks to gain and retain clients to help grow your lash business brand.
I've done some research and put together some essential tips for you. So let me spill the tea!
How To Get Lash Clients?
Eyelash extensions are the talk of the town these days. You see it and hear about it everywhere. But how do you get clients when building a salon?
Knowing who your primary market driver for eyelash extensions is a great way to get started. Let's be honest it's the millennial and gen-z population. There are a few different ways to attract these clients to your lash business, such as social media, reviews, and marketing. But how do you even get started with accomplishing these strategies? Let's take a closer look.
Social Media
I'm sure you've seen many eyelash extension ads, such as videos and pictures, on almost every social media platform. Having social media is a secret weapon when promoting your salon. People can see what type of products and services you offer. If they like what you offer, they could follow your account and check out your website.
If you want to promote your lash salon, it is best to take videos or pictures while working with clients and of the products you sell. People love it when you take pictures of them, especially when they know they will be featured on your social media account. This could boost your business and build traffic to your website. So what are you waiting for? Create a social media account to showcase your lash business and your clients.
Reviews
Do you look at reviews before purchasing a service or a product? If the answer is yes, guess what, you're not the only one. It is so important to have reviews on your website or social media. You could even showcase your testimonies on your landing page.
Having reviews for your salon can build trust for up-and-coming clients. Not only can you get clients this way, but you can also hear what the clients have to say about your products and services—allowing you to figure out if your business needs to make any changes.
Marketing
Marketing can really help your business by sharing what you have to offer. Coming up with multiple marketing strategies is one of the key components to build a successful lash salon. It is a way to develop and maintain your company's reputation.
Marketing is all about making a connection with your present or future clients. From making business cards, providing free services, giving a competitive price point, creating a referral program, and hosting events at a college. So how does all this work?
Making Business Cards
Business cards are easy to obtain and give out to people who are interested in your business. They provide opportunities by increasing your sales because of personal networking. It's an excellent way to build your brand's identity and for your present clients to pass out to acquaintances, family, or friends. Soon enough, you will have a community of clients flocking to your business. So how can you make business cards?
There are different ways to make business cards. You can make and print them yourself or create and buy them on a website. A few places to check out are Canva, Vistaprint, and Zazzle. Yes, it is that easy!
Free Services For Clients
Do you know that offering free services to new clients can benefit your salon? Anyone would rather try a service for free before buying it, so why not provide free services to new clients? Free services let prospective clients try out your lash services and build an understanding of what you have to offer. You will differentiate yourself from competitors while rapidly building a user base.
Advertising-free product or service is an overall win-win situation for getting clients because there is no money or stress involved. So start strategizing on what you can offer. You could offer free products that are an add-on to their eyelash extension appointment or make their first lash appointment free of charge. There are endless possibilities of what you could offer.
Give Competitive Price Points
Having competitive price points will help you advance your salon when offering lower price points. However, it can be tricky to figure out a fair price point for your products and services. The best way to learn what your competitors are charging is by researching their business. Find out what clients like or don't like about their price points by looking at reviews. Figuring out the best price point for your business can help clients save money while building your reputation and revenue.
Here is additional information to help you work on your price point.
Create A Referral Program
Creating a referral program may reach more clients by having previous or existing clients recommend your products or services to their family and friends. This process is like the word to mouth marketing. Making your clients brand advocates could help your salon get clients. So what are the steps to making a referral program?
You can have a referral program software that will insure or increase your odds of getting your clients to spread the word about your lash salon business. It can invite and reward clients for sharing your brand.
If you need more information on finding a referral program software, don't worry, I got you covered. Just click here!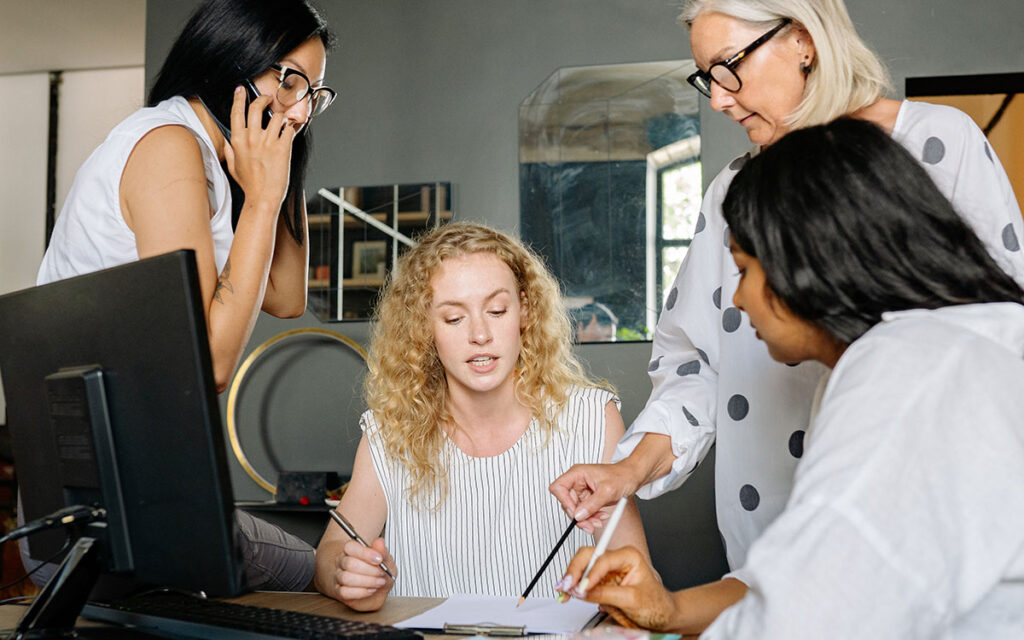 Host Some Events At A College
Hosting college events can spread the word about your eyelash extension products and services. You could host competitions, raffles, or giveaways which is a great way to get college students interested and involved with your business. Another way to interact with college students is by offering free food and drinks while they check out your business. Additionally, you could give out samples and trials, which gives them a chance to try out the product you're offering.
The key factor is getting involved and listening to what college students have to say. Remember, gen-z's are part of your clientele, so it might be good to invest in their feedback. How do you spread the word about the event that you're hosting?
Social media is your best friend when spreading the word about your event. Almost every college student has a social media account that they constantly check. Think about using specific hashtags and platforms to attract the right audience to your event.
How To Keep Your Lash Clients?
You have finally gained clients by using the steps above, but now you need to keep your new clients happy. Let's talk about how to keep your clients. Keeping clients could help you evolve as a marketable salon. So how do you keep them satisfied? The following tips are what I found to be the most effective.
Get Personal
Being personable with your clients will build relationships. Think about it. When you go to your salon, you usually have a particular person you trust, and you want to pay more for their services. It's the same thing for your lash business. Build a relationship with your clients. They will want to return to your salon because they trust your services and feel comfortable with the value you're giving them.
By building a relationship with your clients, you could improve relevance and authenticity, receive insight to improve price points, and discover any questions or concerns. However, make sure there are still boundaries with your clients since there is a fine line between being personable and building friendships.
Build Your Lash Clientele
Building clientele can be crucial for keeping lash clients. The best way to build clientele is to keep up with your social media, be responsive to questions, stay productive by adding new offers and advertising, keep a good relationship with your current clients, and have a good reputation.
In addition, everyone appreciates a pleasant atmosphere. So have a clean, comfortable and peaceful environment for your clients.
It's all about creating new marketing strategies. Always keep that in mind.
Create Discounts And Combos
Who doesn't want discounts and combos? Creating discounts and combos will not only save your clients money, but it could keep them from going anywhere else. The increase in customer traffic can clear out old products and increase sales.
There are so many ways you can use discounts and combos, such as early-bird discounts for new arrivals, rewarding loyal clients, special offers, the list goes on and on. Here's what you want to know.
For your salon, you could offer a discount on eyelash extensions or create a combo package by adding a service or product together. Clients would love it!
Conclusion
Following all of these tips could help you gain and retain clients and build your salon. Remember to stay consistent with marketing strategies, be personable, and listen to your client's needs.
There is still more research to be done, but you are one step closer to having a successful lash salon. So I dare you to take the initiative and use these tips!
Get started now!