As we all know, eyelash extensions are among the hottest trend nowadays. More and more women consider having a beautiful set of dense, natural-looking lashes that can last weeks to get a perfect desired look.
Hence, choosing this as a profession or becoming a certified eyelash extension professional can be both lucrative and fun! You'll get paid for doing it, but you will also get to make your clients feel and look more beautiful!
When you first start out as an eyelash artist, you may hit a few bumps along the road. It is OK, we understand there are bound to be some mistakes.
Today, we're sharing how to avoid common lash extension mistakes to help lash professionals take their services to the next level.
Wrong Pre-treatment process
One common mistake beginner lash artists make even comes before they begin to apply the eyelash extension multi-step process. It is extremely important to follow the right pre-treatment process before one even begins to apply for the eyelash extensions.
Therefore, you have to ensure that the client does not have any grime, dust, or makeup on their lashes. If they do, clean their lashes with protein wipes or lash shampoo. To get the best results, you need to follow up the cleaning process with a primer and a cleanser.
It is important to note that the right pre-treatment for lash extensions does not only apply to new sets of eyelash extensions. Even if all you are applying are the infills, make sure they undergo the right and thorough pre-treatment process. This could be done through an applicator brush or microfibre brush, just to get the roots of the eyelashes pretty clean. Lash extensions will hard to stick to the natural lashes if they are dirty.
Here are some tips for you. First of all, educate your clients on the things that they can and cannot do when coming for a lash extension appointment; this includes asking them not to wear makeup or use waterproof mascara. Secondly, when they come for the appointment, wash their lashes by yourself. Yep, whether it looks pretty clean or not. You have no idea of the duration between when it was washed and the appointment, also, clients with oily skin or those who have sweated on their way to the application appointment will need a rewash.
Common Mistakes that Beginner Lash Artists Make
Using too much or too little lash adhesive
A common complaint from clients is that their lashes are not lasting as long as they could. The reason for this is usually the amount of glue you end up using during the application. A good way to avoid this is to not swipe the lash glue. This creates a film of adhesive on the extension that will dry before it gets a good grip on the lash. Try to scoop the glue but don't scoop too much. A tiny ball is usually a good amount.
In addition. Save, at least, ten minutes at the end of the lash treatment to ensure that you apply it correctly and thoroughly. The first way to check for stickies is by checking every individual lash. Start from the root to the tip, using your tweezers. Ensure that you check each natural lash for undergrowth and baby lashes that might be growing. Also, check the layers, there might be one stickie sticking in between the layers.
Using the wrong lash length
This may sound like common knowledge, but it is one of the most frequent mistakes eyelash technicians make. A good way to avoid this mistake is to remember that the lash set should never be one length throughout. also, remember that long lengths should never be applied to the inner corners of the eye.
It is extremely important that your know-how and learn how to style lashes correctly. Styling too big fans or too thick extensions would not be really great if your client has to wear them long-term. It can also damage the natural lashes seriously, especially if the natural lashes cannot handle the weight of the lash extensions.
So what do you do? Simple, determine the curl, thickness, and length that would suit your client best. You need to remember to consider things such as the eye shape, facial bone structure, distance of the eyes, and also the natural lash growth direction.
Sometimes, a perfect look might require a mix of, at least, 2 different curls. This helps the look be more natural and blend better.
Improperly Applying Lash Extension Gel Patches and Stickers
Correctly placing gel patches and stickers is the foundation of a successful lash extension service. By securing the bottom lashes, you can perfect the separation process and efficiently apply the right extensions for your client's needs. Gel patches make it easy to hold down the bottom lashes, as they won't move or budge once in place. The under-eye stickers provide a smaller surface, which is perfect for clients with petite eyes. you can showcase your use of the world's safest and healthiest lash brand to entice future clients.
When placing eye patches, ensure that you never touch the waterline. Touching the waterline with the eye patches makes it extremely uncomfortable for your clients and could lead to bruising on the eyes or chemical burn. Start from the inner corners of the eye and move outwards, this allows you have more control over the placement of the eye patches. Ensure that you choose the right under-eye pads for the exact eye shapes, choose high-quality eye pads that will hold the lashes on the bottom well. It is also important that you choose the ones that do not have too many ingredients that will cause irritations and scratching to your client's eyes.
Ignoring Humidity Levels
All adhesives react to moisture, which means they'll cure faster when exposed to humidity. You have to monitor your humidity levels to avoid the risk of your lash extension glue drying too quickly, lash adhesive drying too slowly, poor extension retention, your client experiencing poor extensive retention, and longer than normal service times. This hygrometer allows you to see the exact humidity and temperature in your lashing space, you will know if you need to adjust humidity levels to meet your needs. Need more moisture? Too much humidity? Lower the moisture level using a dehumidifier, air conditioner, or heater.
You skip the lash separation process
Separation is one of the most important steps of the lash extension application process. Improper separation can result in the client's natural lashes sticking together. This interrupts their growth cycle and can cause damage. An additional problem caused by improper separation is gaps in the lash line, itching, and irritation.
You need to always bear in mind that you will have to apply lash extensions on every natural lash, so it really does not matter which lash comes first or which lash you get to do first. Here's a pro tip, try doing the difficult baby lashes at the beginning of the application process, once you have gotten them out of the way, you will not be too exhausted when you get to the end of the application process and you can do the easy lashes easily.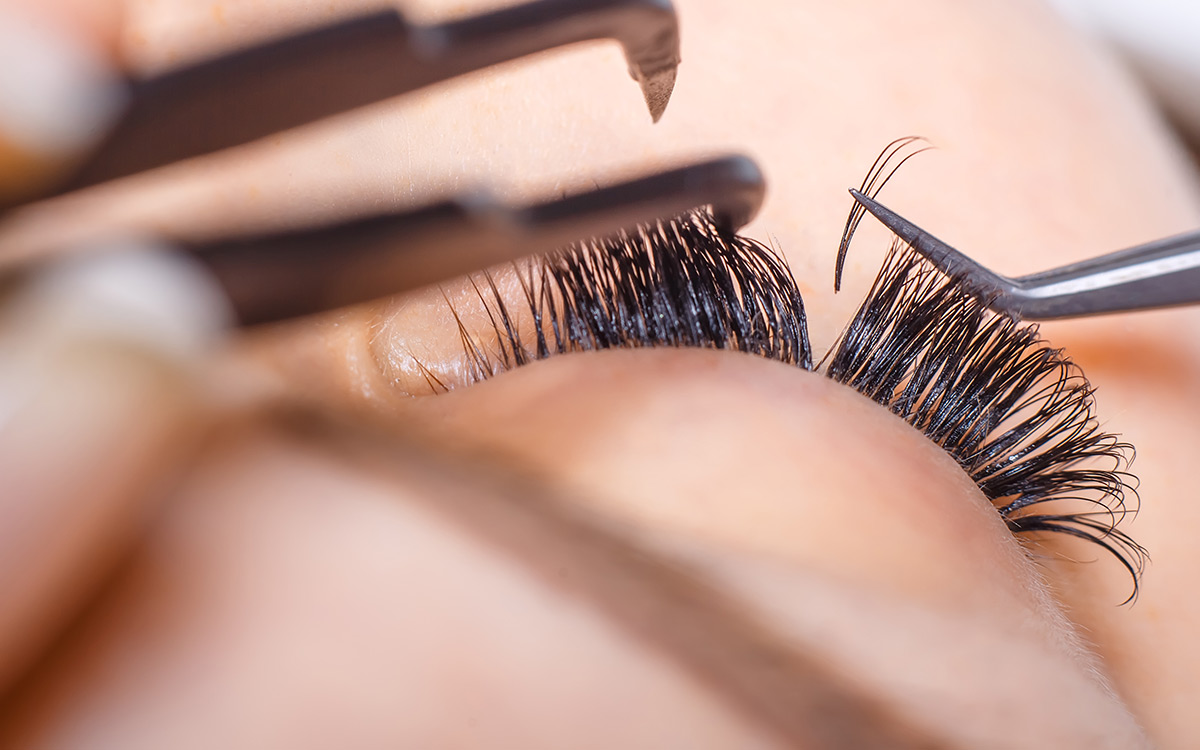 Treat every client with the same application process
Every client you will have will be different. Not just their eyes but also their skin and hair type. Your application process should depend on whether your client has oily skin. If they have oily skin, the oils may break down the adhesive so take that into consideration when applying them. If your client has oily hair, this can also exacerbate oily skin and cause adhesion problems.
You rush through your appointments
Applying lashes is a long and tedious process. If you don't have a lot of patience, getting your lash license probably isn't wise. When first starting out, you may want to rush your appointment to impress your boss, but you should always allow at least two hours for a full set of lashes. If you're doing an infill, one hour and fifteen minutes should be enough. If you don't allow yourself enough time, you may end up with an application of half or partial sets. These sets end up looking sparse and shed quicker.
Not Providing Aftercare Instructions and Products
Even if your lash extension application is flawless, your clients won't be able to maintain your work without the right aftercare. Give each client detailed instructions on how to care for their extension. Spend as much time as you need explaining the importance of aftercare – after all, the better you educate your clients, the longer their lashes will last and the happier they will be! 
Conclusion
Becoming a lash artist is more than a job – it's a career. Even advanced lash artists need to keep practicing, refining, and perfecting their techniques to give the best possible results to their clients. By avoiding these common mistakes, you'll be able to create flawless, long-lasting lash sets without damaging your client's natural lashes