"For me, I would love to turn my passion into a business which can allow me to achieve economic independence, so that I could realize self-value and enjoy my own life." Alice, the founder of Salon Club, said in her interview with Gollee.
The reason why anyone would want to start a business is to achieve financial freedom and enjoy life. There's nothing better than having the money to afford the lifestyle you want. That was Alice's goal, and she was able to achieve it with Gollee. In this article, we'll look at how Alice started her lash business with Gollee and how you can do the same.
When starting on anything, we all need a foundation to lean on — somewhere we can thrive and grow. That is what we offer to all at Gollee.
What Do We Do In Gollee?
Gollee is a manufacturing company specializing in eyelash extensions with over 15 years of experience in the industry. As a master of eyelash extension glue and other lash products, we have satisfied hundreds of customers in retail and wholesales.
We produce and supply products for women of all ages and beauty needs. Because of this, we have gathered women all over the country who rely on us for their businesses and lash supplies.
Alice, a lash artist from New York City, found us in her business journey after trying many other lash extension companies. One trial with us convinced her to stay and build her business with us. From the beginning until now, she has had no reason to regret her decision to work with us.
All she wanted was to achieve the independence that having enough money brings. After working with us for many years and still counting, she has come to develop a soft spot for our company.
Why Choose Lash Extensions?
If you're looking for a reason or two why the lash extension is a good business to venture into, here are a few reasons why you should choose lash extensions?
In Alice's words, "Girls are born to love beauty. I don't feel tired when I'm doing lash extensions, and I hope to bring beauty to everyone."
Girls Love To Look Beautiful
Remember how you felt the first time you got your lashes done? You felt different but in a beautiful way. You looked even more youthful and bright and felt the same.
The main reason any girl would extend their lashes is to look and feel more beautiful. Girls are born to love beauty, and we've evolved to find numerous ways to make it happen. It is no secret that societal beauty standards have approved long and thick lashes. And many women now desire it.
Of course, beauty is a thing of the mindset, but the physical appearance has much to do with how women think of themselves. Lash extensions are done to achieve a more defined and exquisite look; any girl would pay to have that.
It Is Very Flexible
In this business, you're your boss. You don't have anyone at the top telling you what to do and how to run the business. You get to choose the clients to work with and a comfortable time to work.
If you don't like Mondays, then take them off your work days. If you're a mother, the most comfortable time would be when your kids are in school. So there's the freedom to work anytime, anywhere.
Most importantly, being a lash extension artist is enjoyable, and you'd hardly feel tired or bored doing it. There are customers from different works of life with whom you can form a relationship.
It's A Means To Bring Beauty To Everyone
There's something fulfilling about making someone look beautiful. At the end of each work, when you stare at what you've created, you'll feel full and happy. Every day, there's a chance to work creatively. There's always a chance to bring access to what each customer needs and create a look that's perfect for them.
Possible Difficulties You Can Encounter In This Business
Although being a lash extension artist can be what you need to turn your life around, it still has its challenges, and lash artists tend to face them from time to time.
Whether you're a newbie in the business or you've been at it for a while, the following are a few difficulties anyone can face as a lash extension artist:
Not Having Enough Capital
When you don't have the money needed to start a business, you're very limited in terms of how far you can go. This is one of the reasons why people don't begin; talk more of going far.
There are so many things to do, buy, and have in stock before launching your business, but how can one do all these things without money. It can be especially difficult when you're the only one handling everything without support.
High Moq
It can be difficult to start a lash business when lots of brands require a high minimum order quantity, especially when you're just starting and don't have many customers yet.
Alice had a similar issue when she began her business, "…lots of brands require a high MOQ, so it was quite hard to find the brand that can supply just what I need."
Finding The Right Supplies
There are many companies in the lash niche, so you have a wide range of choices. But it's not just about finding a supplier; it's about finding the right brand that is reliable and fits your business vision.
"The safety of products is what I care about the most, and I've received several complaints before from my customers until I found Gollee…"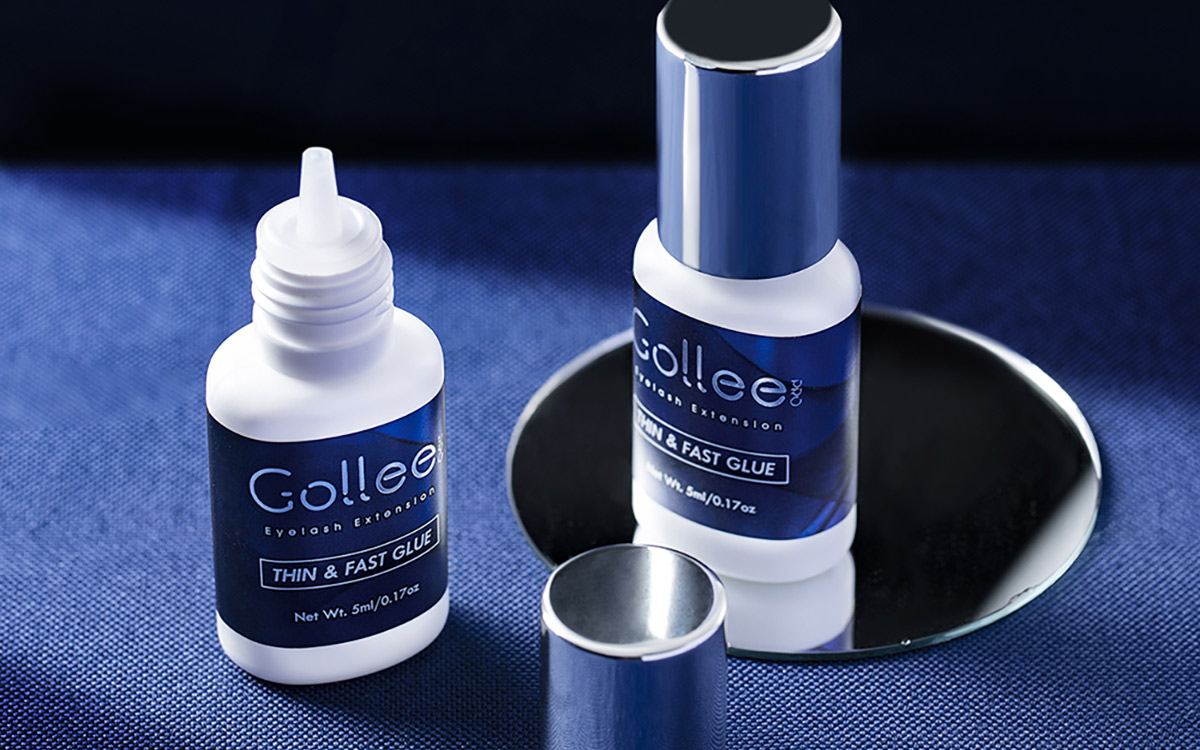 Why Choose Gollee?
Out of all the lash extension brands out there, why Gollee? You're likely to face many challenges as you start, but with Gollee, the problems are minimized greatly.
What did Alice see in our brand that made her stick to us for so long?
Professional Brand Image
As a lash technician, the first thing you should look out for before settling for any brand is their level of professionalism and how they carry themselves. Without this in the picture, there will be unavoidable issues.
At Gollee, we have a high level of expertise in this line of business. All our customers can testify to this. Our products and services are professionally made, which makes us the best option for your business.
Safe Products For All
We pride ourselves on our products. For one, our lash glues have no irritation or allergic reaction once applied. This is vital to you and your clients. You don't want to get complaints whenever a customer comes to you.
It is essential to choose the right brand with reliability in their products. According to Alice, after trying several brands, only Gollee's glue has no irritation to the eye.
Asides from our glues, we produce other products of high quality and can be used by ladies with diverse needs.
Long-Lasting Products
Ranging from our eyelash extensions, tweezers, chemicals, glues, eye patches, and many others, our products are of high quality and last for as long as possible. In all our years of business, there have been no complaints about our products.
With this benefit, you can be confident in our products when you sell them and offer services.
Low Minimum Order Quantity
For the newbies in the lash business who only want to test the waters before settling fully into the industry, we provide an option to order products in the lowest quantity you can ever get.
This way, you can be at peace without worrying about having too many products in stock. Gradually, you can grow your business to the desired point while increasing your orders according to demand.
How Far Alice Has Gone Since She Started Using Gollee
It has been three years since Alice, founder of Salon Club, started working with us. When she first began, she started as a one-woman band. Now, her business has grown exponentially.
She orders all her products from Gollee and has had no regrets since she began. Now, Alice has a team of 20 people who work in all spheres of her business. She has established four retail stores, two eShops, and one salon.
She's very proud of where she has gotten to, but none of it would have happened without Gollee by her side.
In her words, "I'm so grateful that Gollee got me covered."
Conclusion
It is impossible to go far in any business when you have a shaky foundation. This is why choosing a brand can offer what you need when you need it.
At Gollee, we are family with all our customers.
We treat everyone who works with us as friends rather than customers. We make it a priority to build connections and relationships, so we can all have a smooth time working together.
In our interview with Alice, she was asked how long she wanted to work with us, and her reply was: "if I have to tell how long I want to work with Gollee, I would say FOREVER." This shows how much she trusts our brand.
Contact us now to order our products and have a taste of our master brand.