You have experience working for other salons and have a certificate in lash extensions, but when you start your new job, you quickly learn that your boss is a perfectionist who insists on having things done her way. However, you want to be your own boss and want to start your own lash salon. In this blog, we'll give you some advice on how to design your lash studio.
Why Interior Designs are important for a Lash Salon?
You already have a certificate and have applied for lash extensions. Now you must ensure that your lash salon is friendly and ready to welcome customers that are interested in lash extensions. Keep in mind that first impressions matter, especially if you want to earn someone's trust.
Lash rooms play a crucial role in the clients' experience. The atmosphere of your lash studio can have a big effect on how your clients feel. A major part of this is your eyelash extension space. Because of this, it's crucial to design a place that customers enjoy going to and frequently relax in order to receive lash services.
Never underestimate the impact of a stylish color palette and visually appealing interior design.
However, decorating your space can be overwhelming if the design isn't your thing. We will give you suggestions if you're opening your own location or looking to remodel your studio.
20 Tips to Set Up a Lash Salon
Choose a suitable location
It's important to make the right choice of location. You can expand your extensions business as a lash artist in different places. However, it's crucial to pick the ideal location for your business needs.
How to do that?
You can now build a lash studio in your home. Given that you are the one in charge, it has advantages of its own. Additionally, you avoid paying rent or a commission to anyone.
Or renting a space is the ideal way to develop your brand and give your business a more professional appearance. However, it can be expensive and costly to set up.
If you are looking to build a lash studio at your house you should make sure to invest in developing a professional environment and having a luxurious feel that draws customers back.
More importantly, choose a location where you can envision your lash salon being in a space with a great layout.
Determine the room's aspects
Measure out the space of the place you have considered. This will enable you to assess whether the furniture or your lash beds will fit and whether you have enough space to move around. Moving around is important as you apply for lash extensions. Additionally, you should have space where all of your necessary equipment can be kept close at hand. Keep in mind that you must apply for eyelash extensions while your client is lying down. This will take hours, so you and the client should feel relaxed.
Even if you have a small studio, it's okay. There are numerous ways to create a small studio that is both attractive and useful.
Look at the layout of your lash salon
Decide where each piece of furniture will go in your lash room before anything else. You can use this to help with decorating as well. Try out different furniture arrangements to find the layout that suits your room the best.
In a lash room, larger items like your lash bed or lash chair will typically be in the middle. You will then require a lash chair where you can sit through the entire procedure. As you sit down, make sure your other furniture, such as a table where you keep necessary equipment within easy reach. This will enable you to complete the process more quickly.
Remember that there aren't identical lash rooms. You can combine different ideas to see what works best for you. Just mask surely it's comfortable.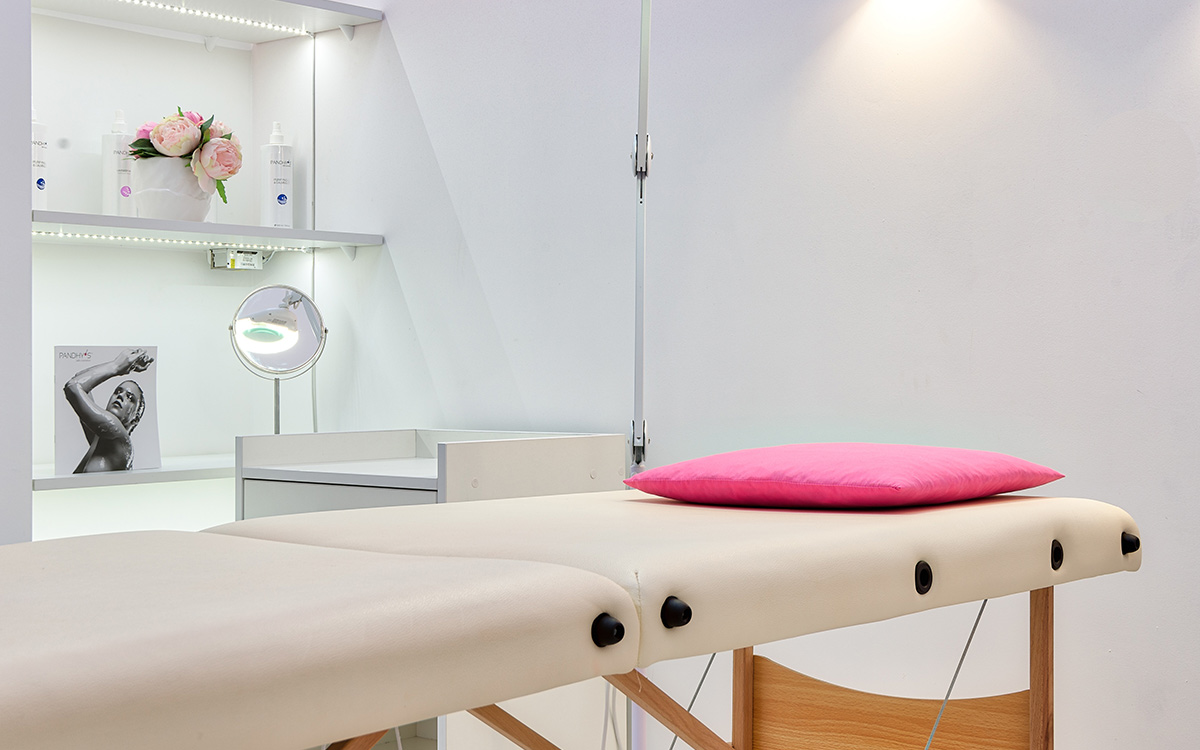 Think about your client's needs
The lash room should be warm and inviting for you and your client. Always keep your client's comfort in mind. Many clients enjoy taking a therapeutic nap during their appointment while you work on their lashes.
Visualize the design you have in mind & Create a mood board
It is entirely up to you how to design your lash salon. Remember that your salon contributes to your brand, so everything should work together. Your website, social media accounts, printed materials, and salon space should all resemble one another.
But you don't want it to look exactly like a competitor's salon, so take the time to look for inspiration online.
To ensure a consistent aesthetic throughout your lashing room, try to incorporate your personal style into the salon's design elements.
Try to make a mood board if you have no designs in mind.
A mood board is an assortment of words or images that serves as a visual representation of concepts for your ideal beauty salon. You can create a mood board by choosing images from Pinterest or Instagram. With this, you will be able to follow a consistent design and have a clear vision.
You can go back to your mood board once you've created one before making any purchases.
Market research
It's best to conduct some market research on competing beauty salons in your neighborhood. Along with that respond to the following questions:
How do they brand themselves?
What is the salon's theme?
What kind of customers do they draw?
What features of their salon do you like?
Get inspiration
Observing what others are already doing is the best way to find inspiration. Social media sites like Pinterest and Instagram are never-ending sources of inspiration.
You can find anything you want on Pinterest by using keywords like "beauty salon," "lash salon," etc.
You can view images of other lash salons by visiting hashtags on Instagram and typing in the relevant keywords. Save anything you like if you see it.
Choose a theme & build your style
This will help inspire your creative side as you look for ideas and put together a mood board. Decide on a color scheme first, then proceed from there.  You can examine your mood board once you've finished creating it to see the color scheme you've selected. I recommend you keep your decorating minimal and stylish.
Use small pieces of lash decor throughout your studio to help clients sense your enthusiasm for lashes. You can hang some lash wall art, for instance.  Of course, not everything in your decor has to do with lashes! You can add a few framed photographs or paintings of nature, and place some potted plants. Or you can add some shelves to the wall and use decorating accessories.
Remember setting up a lash room is more than designing a look. It's all about the energy and the mood you are creating. When you are designing the lash salon keep in mind how you want your clients to feel.
Make the room appear tidy and polished no matter what theme you choose. Please choose a theme that complements your style when planning the design of your lash room. Bear in mind that your client needs to feel relaxed in this space; if there is too much activity going on, they won't feel relaxed.
Enhance your branding and online aesthetics
Each element of your lash business should work in harmony with the others. For example, do you frequently post photographs of clients against nude color backgrounds?
Then nude color walls or nude color bedding should probably make up the majority of your studio. You don't want customers, especially first-timers, to enter and feel disoriented because they were expecting one atmosphere based on their research on your website.
Make a list of things you need
Make a table and list the items you'll need.
I have found a list that you will need from the appointed website.
Set up a budget
Set up a budget and stick with it! Write the costs for each item on your list next to it once you've made a list of everything you want to buy. After that, classify each item as "necessary" and "good to have".
Prioritize your investment on the "necessary" things first, which are those that will enable your studio to work sufficiently for you to begin making your first cash. It's not necessary to purchase everything on your list. Once you have built up your business and have a few clients, you'll have more money available to spend on the "good to have" items.
Set up the right lightening
Your lash room's lighting is really crucial. Subsequently, it can help you view those tiny lash extensions properly because it can make your space appear larger, more organized, and tidy.
Use the windows in the room which allow natural light to enter. If not, think about spending money on artificial natural lighting.
By having an overhead lightening, your clients can see their lashes after each visit. In fact, you want to do whatever you can to encourage your client to take a photo for Instagram and tag you in it! The main element in it is lighting. Photos with poor lighting typically just make it to the camera roll.
Your lash photography will never be the same after making a great lash light purchase.
Temperature, humidity, and ventilation are important
The ventilation, humidity, and temperature of your lashing area are quite important in addition to the lighting and equipment. For a lash artist, it's not ideal if one of these things is out of balance because it can affect an application.
Have storage to save space & use setup organizers
A lash room needs plenty of storage, shelving, and organizers. To keep all of your equipment and supplies for lash extensions organized and well-maintained, storage will be necessary.
Nobody likes to wait for their application to begin while looking at your supplies and equipment. Your client will probably go for another lash technician if there are tweezers and adhesives lying everywhere. It is preferable to keep them hidden and in storage. Ensure that all of your materials, tweezers, and equipment are arranged properly. This will keep your room tidy.
Storage can look stylish. Keeping your lash materials organized is simple with sleek boxes and portable trolleys. For instance, if your design is mainly baby pink, avoid purchasing bright blue storage boxes or lash tools.
You can use clear storage containers to give the place a sleek appearance if you use them to carefully store your products.
Clean environment
You should always keep the studio looking tidy and professional.
When your client is relaxed throughout their session it can be increased by maintaining a sterile and spotless environment. Keep hand sanitizers and sterilizers for keeping your tools clean out in the open rather than hiding them away.
It demonstrates to your clients that you are a professional, and they will feel at ease. It also raises the likelihood of clients returning to you.
Make the lash beds the main focus
The main focus of the studio should always be the lash bed, not only for visual appeal but also to give clients the impression that their experience will be prioritized.
Try not to keep any items or furniture in the way of the path from the door to the bed by placing the bed in a spot that is simple to access from the room entrance.
Looking comfy
The perfect bed should not only appear warm and inviting, but it should also be comfortable. Keep a nice blanket or two on hand for customers who get cold, and invest in a comfortable pillow that supports the neck for the best comfort during longer sessions.
We recommend purchasing one or two back support pillows and storing them beside or under the bed because many clients, particularly those who are elderly or pregnant, may feel uncomfortable or have lower back problems.
Create an atmosphere with scents, music, and refreshments
Use a diffuser and a few drops of calming smells like lavender, jasmine, lemon, vanilla, and more to create a pleasant and peaceful atmosphere in your lash studio.
You can also incorporate songs from your Spotify playlist if you have a decent selection of music there. Think carefully about the tone you want to create before choosing the music or background noise for your lash studio. Are you aiming for a calmer, spa-like atmosphere? You might want to download a few playlists from Spotify with soft piano or natural sounds. If you want the salon atmosphere to be chatty then try the playlists on top 40 pop radio! Or even ask the clients when they are getting their lashes done what type of music they want to listen to.
In either case, be sure to spend money on a high-quality speaker with clear, crisp sound and set it up in a discrete section of the room at a low or medium volume. As getting lash extensions done it should be a peaceful experience for your client and avoid having music that sounds scratchy or is too loud.
Go above and beyond
The little details will set you apart from other lash studios and improve the entire experience for your clients. Consider small gestures that go above and beyond for your customers, such as setting up a coffee station, providing mints or candy at the register, or keeping extra phone chargers available in case they lose theirs.
You can also create a station for a quick checkout! Use a platform like Square to enable customers to swipe their credit card or make wireless payments with their phones, and keep referral cards and a lash menu on hand.
To further encourage your clients to make an investment in their lash health, set up a retail station with aftercare products like lash shampoo, aftercare kits, or sleep masks as well as instructional brochures.
The Final touches
Add the finishing touches last. You can do a lot of things in your lash room.
You add lashing quotations that can be framed and hung or placed on top of a shelf. Just remember to set aside a location where your clients can take pictures. This is a fantastic opportunity for you to promote both your personal brand and your company.
Therefore, don't forget to include your company name or logo there. By doing this, you can be certain that your clients will always include your logo and brand when posting on social media.
Conclusion
We hope that these lash room suggestions inspired you to think creatively. Clients will come to you, not only because you do quality work, but also because they enjoy spending time with you in your lash salon. Remember to focus on making their experience a relaxing, fun, and positive one. Most importantly don't forget to smile when you welcome your clients. You want to leave a positive impression on them.