Every lash artist is interested in their very own lash extension trays, which are a must-have item in your lash extension kit. You may think that you can buy them from any store or brand that you know and need. If so, then you need to be more educated as to how to choose the right trays so as to avoid buying just any lash extension trays.
There are so many different types of lash extension trays available these days that it can be hard to know which one to choose, especially if you are just starting out and do not have a lash extension supplier yet. So we are here to help you and to make things easy with our guide to the best eyelash extension trays in 2022.
After all, the last thing you would want to do is work your way through a number of different lash extension brands only to be disappointed in the quality. Not only is this a waste of money, but lower lash trays can and would also lead to poor retention and therefore unsatisfied customers which we do not want. Ultimately, they can jeopardize your reputation as a lash artist.
From classic to volume and curls of all kinds, we will walk you through the must-have lash extension trays for every lash technician.
A brief history of eyelash extensions trays
Long ago, the representatives of the soft sex tried to do something special for their beauty and to enchant men. Their social class was decisive. The look in their eyes was the main object of interest for men. Therefore, women and girls began to decorate their eyes and eyelashes in various ways. Focusing on their appearance caused a growing admiration from men. They decorated not only the eyelashes but also the eyelids, using the available colors mainly of natural origin. They embellished their eyelashes with various minerals, herbs, natural oils, and other means. They used to glue these lash trims with natural waxes.
It is difficult to pinpoint the exact year in which the first eyelash trays were introduced on the market. These products come in various sizes and curls and are packaged together in the same box. Consequently, the technician must take each tab out of the box with extreme caution before placing it on cotton or silicone pads. It takes a long time to practice, and even then there is no guarantee that the finished lashes will be of any quality. This is especially true for people who are not familiar with eyelash extensions.
Due to the above factors, eyelash extension trays are currently stacked neatly and classified according to each curl and size. What a great innovation that all lash artists should use! Lash trays are mixed with a variety of lashes to reduce costs for lash artists. One of the most outstanding features is the fact that the tabs are still correctly ordered despite having a varied tray and that the product information is not distorted.
How do you choose eyelash trays?
So you have a good idea of what the best lash trays to buy are, as a lash technician. But how to identify the most reliable lash extension trays? With so many different lash extension trays, finding the perfect lash extension tray can be tricky. There are several factors to consider when searching for the best lash extension trays.
Here are some details to look for to help you find the best lash tray brands.
Cruelty-free
Check that the lashes are vegan: some lashes are made from animal hair. All lash extension trays should be made from 100% PBT synthetic fiber. NB "Mink" does not necessarily mean they are made from mink, the animal, so be sure to read the details.
A safe weight
Check the weights offered by the distributor. A reputable lash extension supplier will not offer thicknesses greater than 0.15 as they are too heavy for most people's natural lashes and can cause damage.
Well-made lashes
Good quality lashes are easy to peel off the strip, easy to grip, and do not warp when you work on them.
Well-designed trays.
The best lash extension trays will have the length in mm next to each row of lashes and also below each strip. This avoids potential confusion when you have multiple tab strips in the tab tile, and keeps things nice and clear if you stick with partial tab strips.
Good critics
If you are unsure about a supplier, read their reviews online. Remember, customer service is also very important – you want to choose a brand that is happy to help you in case of difficulty.
Expert opinion
It is easy enough to set up a web store and sell products these days, but check the quality of a company's blog articles and social media posts.  Their level of knowledge will soon let you know if they are experts in their field.
Types of the tray for eyelash extensions
There are four basic types of eyelash extension trays below:
One size:
These are the simplest lash extension trays commonly found in most brands. This lash extension tray is made up of lashes that are the same size in length, curl, diameter, or thickness. Typically, you will be using this kind of classic, voluminous lash extension tray.
Mixed tray:
Unlike the individual format, this lash tray combines many lengths in one tray, sometimes with the same curl, like the Wispy and Camellia lash extension trays. This product is appreciated because it saves costs and is often used for eyelash extensions that combine eyelashes such as hybrid, cat eyes, doll eyes, etc.
Mini tray:
This type of lash extension tray has fewer tabs than normal lash trays with around 133 tabs or fans. They are very suitable for those types of lashes that are not popular. Just store them to make your service more diverse.
XL and Double XL trays:
These are "giant" lash extension trays. They will hold quantities from 1,200 lashes to 1,000 fans, almost double the normal lash extension trays, saving you time and money. In addition, they also have a variety of curls. They have all helped make this line of products fashionable among lash extension stores.
How many lashes come in a tray
The full-size lash extension mixed tray has approximately 16 lines and is enough for approximately 16 clients. Each lash extension tray has 3,000 to 4,000 lashes, the amount depending on the thickness. The thicker the lashes, the greater the amount.
Why are eyelash extensions done in a tray?
There are several answers to the many questions that have been asked. When selecting a lash extension tray, we narrowed down the options to the best.
The first advantage is that the eyelash extension trays are "easy to organize". In today's market, lash extension trays often assemble lashes in various curls and sizes. In addition, they provide precise requirements for technicians. As a result, you no longer have to worry about smudging your lashes.
To maximize the effectiveness of the blink time, you should see the tabs in the same tray aligned horizontally, vertically, and at the proper angle. To pick up and start anchoring, all you need is a pair of tweezers. Compared to the lashes included in the box, it will save you half the time.
Also, because they are arranged correctly, you only need to read the lengths or curls and then use them without spending time preparing them.
It is also easy on the wallet: A single tray can hold 12-16 lines of lashes. In most cases, we will use one row for each customer. The actual cost will vary depending on the type of eyelash extension and the thickness of the lashes to be lengthened. Lash artists can be more productive and get their work done faster with the help of lash trays, which are among the best packaging options available. Since there are many lashes in one tray, the price of the wallet is more reasonable and manageable.
Types of eyelash extensions in trays
Choosing the best lash extensions in trays can be difficult! There are so many options, we have listed our best lash extensions in trays with their details to help you choose the lashes that fit the needs of your customer base.
Classic lash tray
Classic lashes are a lash artist's bread and butter, so it is important to find high-quality extensions that they can trust. Available in 0.10, 0.12, and 0.15 thicknesses, we recommend starting with 0.12 black lash extension trays as this is the perfect versatile thickness that will suit most people, allowing you to create natural-looking yet glamorous looks. Available in the popular C, CC, and D curls, a mixed-length tray allows you to tailor your look perfectly to each individual eye.
Also, consider some 0.15 flat lash extensions. The cross-sectional shape of lashes is more rectangular or oval than circular, which means they are lighter and have a larger surface area to adhere to natural lashes, allowing for better retention. They can also emphasize the lash line for an eyeliner effect.
Flat lashes are superior to what you will find on the market: instead of looking too shiny, sticky, and voluminous, they are soft and matte black like voluminous lashes and are a joy to work with.
Volume lash trays
As any lash artist knows, volumetric lash extensions are a whole different ball game that requires another level of precision and technical skill. When you create fans from individual lashes and then apply them with tweezers in each hand, it is critical that the lash fibers won't let you down.
We recommend that you have some regular Russian volume thicknesses like 0.07 mixed-length lashes in your arsenal, as well as thinner thicknesses like 0.05 mixed-length volume lashes, so you are ready if you need to create volume fans up to 8D. For larger mega-volume enthusiasts, buy some lighter weights.
The voluminous lashes come in curls ranging from B to D+ depending on the style. A C or CC curl is likely to be the most commonly used, though, of course, you will want to choose the curl that works best for each individual client.
L curl lash tray
L-curl lashes have become incredibly popular in recent years for their fabulous eye-opening effect and are also great for creating that feline effect. Make sure you can keep up with the demand with some L Curl lash trays. As with more traditional curls, the L-shaped curl can be any thickness.
You will typically find versatile 0.07l curl lash trays in mixed and individual lengths, as well as 0.05l curl lash trays for a high-volume look. For a truly gorgeous curl, try L+ lash trays, which are similar to LC lashes. And fabulous lashes don't always have to be black – for clients looking for a more natural look, the dark brown L curl lash trays can create truly beautiful styles.
Pre-made fan lash trays
If you prefer to use pre-made fans for voluminous lashes, choose from 3D, 4D, 6D, 8D, and 10D lash fans to create the level of fullness your clients want, in no time!
Premade lash fans are heat-sealed, not glued, meaning there is no excess weight to put on your client's lashes to protect them from damage.
Types of lash extensions tray material
Let's take a look at the commonly used lash materials in lash trays.
Synthetic Mink Lashes
These are lashes inspired by real mink fur. Nowadays, it is a trending product in the lash community, thanks to its high quality and 100% vegan. Faux mink lashes are also available in trays for easy use. They have the benefit of matte black colors like natural lashes and a soft texture.
Silk lashes
With a fine and soft texture, this type of lash is suitable for clients with sparse, weak, sensitive eyes or those who want to try lash extensions but still want to maintain a natural and delicate style. Just like other lashes, the silk lash extension trays will have all the required specifications. However, the price of this tray will be higher than other common lashes.
What Is The Difference Between Classic Trays And Volume Lash Extension Trays?
With a thickness of 0.07 and less, it is considered thin enough for safe volume lashes. Of course, this depends on the natural health of your client's lashes. 0.10 and higher can be used for classic lashes.
Depending on what look your client is going for, you can determine if they want the classic look or the volume and choose mink false lash extensions to create that look. The difference between these is the weight of the extensions.
There is also the Hybrid Lash Style, which is when you use the volume and classic tub lashes combined.
When it comes to sourcing supplies for both styles, there are the Volume Lash Extension Trays, designed to easily detach from the strip, allowing you to quickly create your own fan lashes by hand.
Classic lash extension trays, on the other hand, are not meant to be fanned out. They should only be applied to a single natural lash.
Eyelash tray and characteristics of each tray
Eyelash Trays
Eyelash trays have been used by a large number of people, including eyelash extension beginners and professionals. They employ various lash extension methods including classic lash extensions, volume lash extensions, hybrid lash extensions, and many more. Eyelashes can be altered in their curve, thickness, and length with eyelash extensions, making the eyes look more beautiful and attractive.
Characteristics of each tray
Depending on the material, curvature, length, thickness, and number of lines in a tray, a variety of lash trays are available (usually 12 or 16 lines in a tray).
Follow this pattern: JJ, J, JC, C, CC, D, DD, L, M…
The length can vary from 5mm to 20mm.
The thickness varies from 0.05 to 0.06 to 0.07 to 0.10 to 0.12 to 0.15 to 0.20 to 0.25.
The best supplier's to prioritize?
It would be better to research the information and actions of the eyelash extension tray supplier. For example, how long have they been in business? Are their goods different? What is the source of their goods?
Quality at the Source
When it comes to wholesale eyelash extension trays, many customers choose products from Korea, Japan, and China. Consequently, you need to research the origins of the lash trays you are interested in.
Support and Add-ons
A reliable lash extension tray supplier will always be available to give you full support.  They will help you with shipping and tell you how much you will have to spend.  They are also willing to return your order if there is a problem.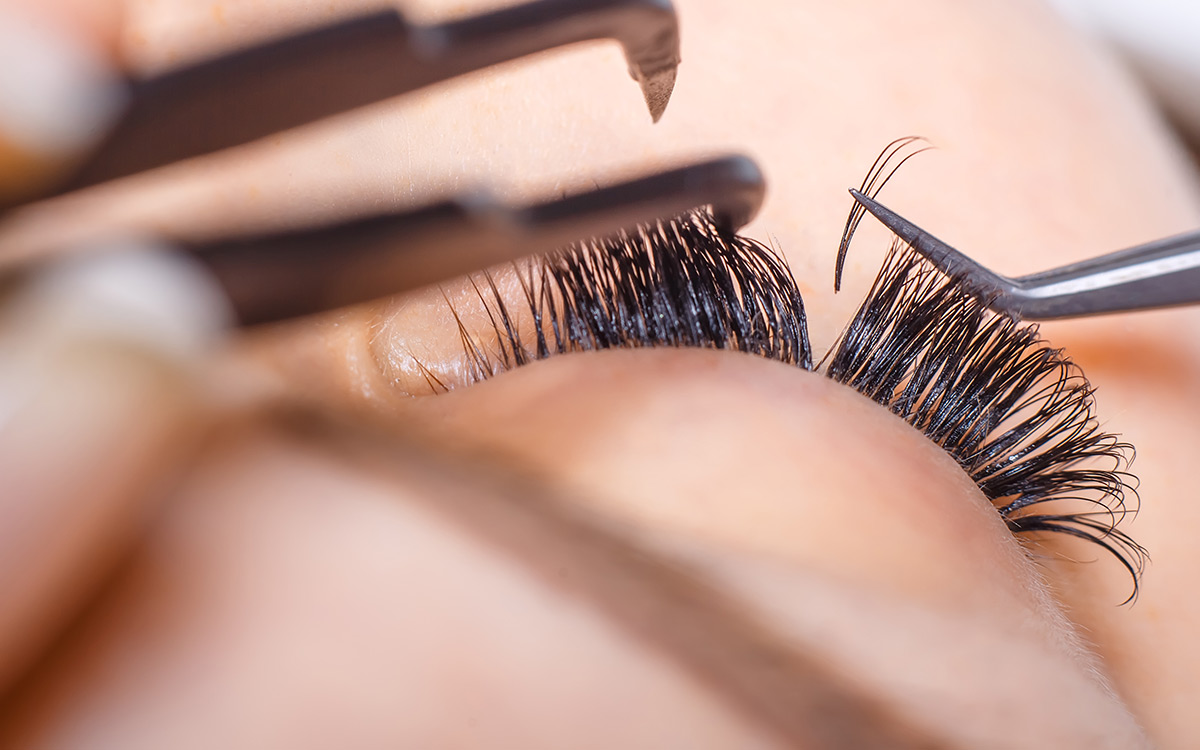 Conclusion
Above are all the curiosities about trays for eyelash extensions: a "must-have" product in every lash artist's bag. We hope you find useful information in this article.