Over the past few years, eyelash extensions have gained tremendous popularity, and no matter where you reside, you can probably find at least one business that provides them within a short drive. You may have questioned how much money you could make as an eyelash technician if you've considered going into business for yourself.
When you're just starting with eyelash extension training, it can be difficult to determine what you should charge clients. Some questions you might have include, How much should I charge per hour or treatment? and What should I charge clients who have never gotten extensions before? These are important questions to ask and answer so that you know how much your time is worth and what to charge new clients or people who haven't ever been customers of yours before.
As a novice eyelash extension technician, you must ensure that you have amassed sufficient experience to be able to bill your clients for the appropriate amount of money. If you set your prices too low at first, it will be challenging to attract new customers because your prices are already so cheap. Your costs are too low, so it will be difficult to acquire recommendations from other lash technicians.
Depending on the salon, stylist, and region of the country you choose to live in, getting eyelash extensions varies. To make sure that your pricing is reasonable for your area and that you're earning enough money to support yourself as a beginning lash technician, you should consider key factors before selecting how much to charge your clients.
The Best Way To Price Your Lash Extension Business
In the world of eyelash extension services, there are two main pricing models: volume and time. Volume-based pricing works by charging clients based on the number of lashes added to their natural lash line. Time-based pricing is charged by the hour and includes service fees like travel time and setup. There are pros and cons to both methods. With volume-based pricing, you can charge more per person with less work than if you're doing time-based pricing. But you also need to be able to commit your entire day or night to complete an appointment. You have to have clientele that doesn't require last-minute appointments so you can schedule everything at once. And of course, it's important not to overbook yourself because it could end up costing you in terms of missed opportunities when one customer goes late or doesn't show up at all.
When determining the cost of the services you will provide, keep the following in mind:
1. Every investment you have made up to this point, including course fees, money, time, and effort.
2. Daily operating expenses for your firm, including the price of the supplies you'll need and shop rent.
3. You do a valuable service by assisting the ladies in your community in feeling confident and attractive.
Your pricing plan must be carefully considered initially because it might make or break your company.
Do you still work on your skills?
You will need to do some serious planning when you first start as a lash artist to determine the appropriate pricing. Therefore, while you continue your training, you can use the following strategy as a reference:
1. Present your base price while considering your complete outlay.
2. Offer a special price on your complete set.
3. You can continue to provide this introductory price while building your clientele.
4. You may retain your service fees because the majority of customers will follow up for refills.
Since it's your company, you can decide on the pricing, but as a general guideline, a new artist should aim for the upper end of the going rate. If you have enough confidence, you may set even higher goals. After the visit, you might give your client some small presents if you plan to maintain premium pricing. Eyelash brushes and other items are examples of these gifts.
You must monitor your rivals as a business owner and adjust your pricing strategy as necessary. Visit them as a client to evaluate their offerings and identify any strengths or weaknesses.
When should you charge the full price?
Although you may be an amateur, you shouldn't set your prices as low as possible. The fact that you shouldn't demand the highest price on the market is equally obvious. With time and experience, it will become clear.
It all comes down to first recognizing how valuable your service is. Choose a rate that is commensurate with the quality of your work if you are composed and steady throughout the procedure. However, a novice may occasionally experience anxiety and uneasiness when working on a piece that needs better. If so, improve your abilities while maintaining a base pricing and enticing clients with discounts, special offers, or inexpensive gifts.
Setting the proper price for your services is a crucial first step for a thriving company in the future. However, as we already discussed, you must carefully consider your price plan. There will be many obstacles on your path, but you will overcome them by focusing on your love and art.
DON'T OVERPRICE!
Every new lash artist should set reasonable prices. You cannot and should not overcharge as a new service provider. There are valid justifications against overpricing. Before charging anything close to a full charge for a service, a novice lasher should apply at least 10 to 12 complete sets of lashes. One reason is that you won't have the level of expertise required to dazzle your new clients. Your client will be disappointed because it will take longer and you won't be able to apply as many lashes as they would want. We might believe that our application is wonderful. Most people do, but only to a certain degree. Be aspirational while remaining grounded. Lashes aren't for everyone, so don't take anything personally. There are some incredible clients out there who adore you and your work regardless of your degree of expertise. These amazing clients are what we live for.
STUDY THE COMPETITION
You can find out how much other "lashers" charge if you do some local market research on lash artists. A decent starting point is to set your costs for beginners roughly 30–40% less than those of an experienced lash artist. These clients will remain with you as a result, and as your talents advance, they will be pleased and proud of you. People who are intrigued and have wanted to test lashes but didn't want to spend money at a higher price point would also be attracted by this cheaper pricing point.
Nothing here is set in stone; this is only a useful guideline. You might be reluctant to consider upping your fees as a beginning lash artist. Let's examine when you ought to accomplish this and what actions you ought to take to make it happen as gently as possible.
As was already mentioned, the secret to raising prices is to perfect the time and guarantee proper isolation. Keep being fearless in mind. You deserve it because you worked so hard for it. I wouldn't advise a significant price rise all at once unless a significant event occurs, such as rebranding or a significant move.
The same as with the new eyelash extension artist, we advise against it. Start with modest increases. Put a notification about your price increase somewhere customers can see it, or again, create a brief printed notice to hand them as they check out. In this manner, your client won't be taken by surprise and may plan to budget for the increase. When your prices have already increased, you can lose a few customers who had already spent all they could afford on beauty. Be not alarmed. You could lose a few customers, but the price rise will make up for it by allowing you to take on new customers who weren't aware that your rates had ever been lower.
When is the best time to raise your prices?
You don't have to wait until a certain season to raise your prices, but many salon owners do so right before the holiday shopping season. During this time of year, customers are feeling more giving and anticipate spending a little bit more. Therefore, if you have a reservation and feel prepared, go ahead. Don't forget to raise the costs for any supplemental services you offer as well.
Waxing the brows? Do you use any sort of targeted therapies? Neck, eye, or lip treatments? Remind yourself to increase such services as well. It might be a little frightening to put this into action, but after you've addressed inquiries from clients about the rise a few times, you'll feel more at ease doing so.
What to think about as a beginner eyelash extension technician before charging a client
Decide what pricing point is appropriate for you first. There are a few elements to take into account to ensure that your charges are reasonable:
1) The price of leasing a studio or paying for other required licenses and permissions for businesses.
2) Whether your company is open on the weekends or not.
3) What products or equipment you'll need to buy to satisfy your clientele?
4) Ongoing operating expenses for the business, such as marketing charges and overhead for administrative tasks like billing, accounting, and bookkeeping.
It will be simpler for you to decide how much profit margin may be generated by selling one service at a given price point once you have taken these elements into account. Keep in mind that not all aspects of running your own company are about producing money! Before you set any prices, you must research to see how profitable each service might be. If you're aiming to spread the word about your new company, make an introductory special offer to let people know they'll get more for their money using your services.
Ways to Market Yourself As A eyelash extension Stylist
You may advertise yourself as an eyelash extension stylist in a variety of ways, such as by having business cards that appear professional and by running ads in publications like magazines and newspapers as well as online. Naturally, word-of-mouth advertising is a great technique to promote your services. To encourage those who might be hesitant to commit to a full-service price, you might also offer special deals or bundles for brand-new clients. Offer discounts and freebies as well, such as complimentary eyelashes for subsequent appointments. By including your phone number on all marketing materials, you can make it simple for potential clients to get in touch with you with their inquiries. By regularly researching new techniques, styles, and goods, don't forget to stay current with trends, technology, and client needs. Ask other experts for advice if you're feeling stuck in this fast-paced field, and look for a mentor who can offer you both advice and emotional support. Keep your head down and work hard. Since they enjoy what they do, excellent lash technicians take pride in their job.
A further strategy for promoting your services as an eyelash extension stylist is price. Regardless of your degree of experience, you must make a strong judgment regarding the price you believe is appropriate for your services. Setting your price too high, however, may cause you to turn away potential clients who cannot pay your prices. Many individuals advise beginning with lower prices for beginners to gain experience. Don't be scared to experiment with various costs to find which suits you the most. Some people might find it simpler to start with higher costs and then progressively lower them as they gain more experience.
When charging as a beginner eyelash extension technician Know What the Average Cost is for Other Estheticians in Your Area
The cost you charge clients for eyelash extensions will vary, just like it does with anything else. Make sure your cost is reasonable by researching what other technicians in your region are charging. Having said that, there's no need to undercut your rivals if doing so would result in you not having enough money to offer top-notch service.
Because it is believed that inexperienced technicians don't have the same degree of ability as seasoned specialists, it can be alluring for a rookie technician to want to provide low costs.
But keep in mind: just because you're a beginner doesn't mean you shouldn't get paid what others in your field are! People might think you're less skilled than they initially thought if you start charging less than your peers. In addition, someone with more experience can feel that their years of experience weren't respected when they learn about this discounting. The best course of action is to research what local competitors are charging and set your prices accordingly, without going too high or low.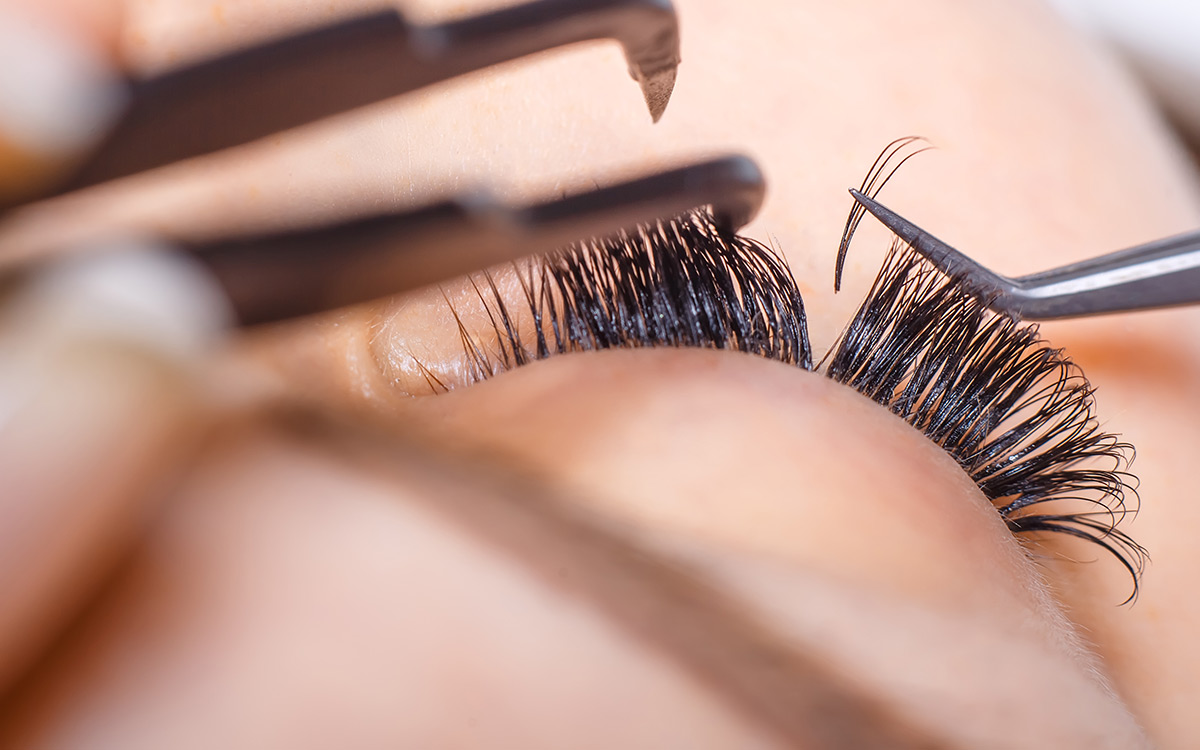 Consider Other Factors That Affect Pricing, Such as Location, Competition, and Demographics
Some technicians discover that the location they are in forces them to raise their charges. When deciding how much to charge for eyelashes, it's important to take into account additional elements like the salon amenities, the demographics of your customers, and the service you are offering. In an urban setting, increased competition might result in reduced costs, whereas in a rural setting with less competition, it might make sense to charge more.
The length of your services, the number of lashes applied to each eye, and whether you request any additional services can all have an impact on price. Customers who choose the extended wear option for lash extensions, for instance, may need to come in more regularly and spend more money overall. When determining how much to charge, be sure to take this into account. Keep in mind that marketing expenses like those for brochures and social media advertisements can assist draw in new customers. Before creating your pricing structure, take into account these several factors to determine your price point.
Because there are so many variables that can affect the cost of eyelash extensions, it's critical to research and understands your target market. Beginners frequently make the error of failing to take other considerations, such as geography or competition, into account when determining the price for their services. Demographics should also be taken into account because different client types will have varied price points. Make sure you understand who your ideal client is so you can customize your offerings and charge a fair price. For instance, you might be able to charge more than someone in a metropolis with many competitors if you live in a small town with less competition. If this is your first time providing the service, charge less than normal as you figure out what kind of profit margin is appropriate for your company.
It's time to decide on your price now that you are aware of the key factors that influence your pricing. Consider how much you will bill for both labor and supplies for each lash service. To generate a profit, your prices should be between two and three times greater than these sums. Additionally, you have the option of setting up bundles that combine several services at once or choosing an hourly flat fee structure.
Conclusion
Hopefully, this helps you figure out what things should be considered for beginners when calculating pricing for their eyelash extension services. The main question that should be answered is, What am I doing? You need an accurate breakdown of the time and materials used so you can know how much profit is left over and determine if that amount will cover your production costs. Next, there are taxes to consider; make sure you have these on hand. Finally, don't forget the hidden expenses such as marketing and promotion. Pricing is an art form, but it doesn't have to be complicated!