Yes! You've got that right. This eyelash glue is like no other you've probably used before now. It comes with its own lovely scent of banana. And if nothing else, customers find it the perfect choice to let close to their face. After all, who wouldn't want a lovely smell close to their face?
Yet, more than the pleasant smell, you also get to have an eyelash glue with ultra bonding abilities that keep your extensions going for up to 5 weeks! This is one of the longest, if not the longest, retention times I've experienced. So, not only does this special eyelash glue smell nice, but it also does its job of maintaining an ultra-strong bond.
While all these summarize the good news about the banana eyelash glue from Gollee, there's more to share. And since you've reached this point, I'm sure you're willing to see it all through. But if you must leave now, remember that Gollee makes itself available to you for quotes. And why not fixed prices? That's because Gollee manufactures this special glue mix, and they can help you prepare it just as you want it — your own personal brand of eyelash glue. Well, that said, let's go into the main meat of this review. Let's go!
The Quick Benefits You Enjoy by Using the Gollee Banana Scented Eyelash Glue
As the name suggests, you get to have a pleasant banana scent
Also, as you'd soon find out, it offers a perfect, seamless bonding that blends well with the extensions
It gives off little fumes and hence, little to no irritation
It is liquid, making it easy to use while avoiding clumping
Okay. What makes the Gollee banana eyelash glue so special in my heart?
The Problem of Industrial Glues
As my title reads, you've probably realized the point here. We could do anything to eliminate these industrial glues that irritate our customers when they come for lash extensions. For one, the large number of fumes emitted already poses the dangers of sensitivity. On the other hand, the malodor that these glues give off causes our customers to come close to puking. As a lash stylist, the wish is to provide the best services at the least cost possible. And that includes reducing fumes and finding a way to remove the weird unattractive smell of industrial glues.
While that is the major point to solve here, we've got other issues with many types of glue without proper consistency. Not-so-liquid glues readily cause clumping, which affects the curing. A whitish stain appears on the extensions, making it all look weird. For one, we need that glue in its liquid form, a black color that fits in perfectly with the extension strips and would cure properly without hardening or forming infuriating white patches. And these issues, friends, are what the Gollee banana eyelash glue solves for me. But how does it achieve these?
The Ultra Bonding Effect of PMMA
As a veteran lash stylist, you know what every lash extension customer is after. It's simple — a long-lasting filling of extensions. No matter how nice it looks, what matters the most to every client is how long they get to carry the nice-looking extensions. And when you can offer them a long time of retention, that's when you hit the jackpot! Customers at that point only recognize your service as the best in the area, not considering any other thing.
So, let's get to the facts here. Banana scent or not, what's most important is if a so-called eyelash glue works as a long-lasting adhesive. And true to that, the banana-scented eyelash glue from Gollee works so well. And the special addition there is the PMMA.
Simply put, PMMA is poly (methyl methacrylate). And it is that ingredient that ensures a long-lasting bond of the extensions to the natural lashes. It is the main substance you need to ensure your adhesive works for a long time. It reinforces the typical cyanoacrylate in all glues and enhances its adherence properties. In other words, when you have the PMMA work perfectly with the cyanoacrylate, you get to have your dream glue in action:
There is the rapid drying
There is the immediate bonding of lashes
There is a long-lasting, strong bond that leaves the lashes in place for several weeks.
But to break down their functions even better, you could say the cyanoacrylate ensures rapid adhesive curing, while the PMMA ensures longer-lasting retention.
Understanding how PMMA works introduce you to the ultra-bonding properties of the banana-scented eyelash glue from Gollee. Thus, having the PMMA ensures the bond is like none other you witness every other day. It is, in fact, the strongest you'd ever get to use in the industry. And it keeps your lashes in place for as long as 4 to 6 weeks!
All through this time, your customers' lashes are kept stable and looking all nice as you'd want them to look. Even better, it is waterproof and sweatproof. That means nothing can ruin your client's look until it is time for a touch-up. And with this strength of retention, you can be sure your customers won't keep coming back at short intervals for a refill.
Well, that solves the ultra bonding issue, but how in all does Gollee Banana Eyelash Glue remains the customers' choice?
Features of the Gollee Banana Eyelash Glue: All You Should Know
This special eyelash glue does the job in only 1-2 seconds and is perfect for classic and volume eyelash extensions! Have you seen any scented glue as fast as that? I doubt it. But in just 2 seconds, you have the bond in full effect, and recall what we said earlier? With its PMMA content, it not only sets in this time but also retains this strength for the next 4 to 6 weeks!
Now, more importantly, this special glue not only gives the best bonding you could ever wish for. In addition, the banana scent is a huge upgrade from most glues you'd find in the market. With this, you won't ever have to worry about a client being dissatisfied because of irritating smells. Not only is the unpleasant smell removed, but a more lovely one that clients enjoy now exists in its place.
Moving on from the PMMA and banana scent, what else makes this glue quite popular today?
There is the matter of its color. Not every glue you find on the shelf maintains a black color. Now, the banana eyelash glue has a rich black color that ensures a seamless addition to your lash extensions. Of course, you'd expect your extensions to be just as black. So no one can point out that you've added some glue. Only your clients and you would be aware. After all, there is a nice banana scent to remind your clients when they leave your shop of the presence of the glue.
Moreover, the glue cures perfectly, so there's never a time you have to struggle with white film complaints from customers. This often arises as a result of shock curing leading to a blanching effect, forming a whitish crystalline film around the extensions. This obviously tells everyone that sees your client they've got a stranger on their face. And that can be somewhat embarrassing. Especially when the plan is not to tell anyone they've got extensions on.
Next, the liquid texture is maintained. This is usually due to adding the right amount of hydroquinone. And that's something only the expert manufacturer, Gollee, has mastered. Keeping the glue liquid gives you the perfect consistency you need to ensure the glue spreads out evenly. Having clumps is the last thing any stylist would wish for. So, without the clumps, you know when you've added the right amount needed to bring about a long-lasting adhesion.
Finally, but still on features, the one thing that differentiates Gollee's products is their medical-grade quality. The idea here is this. Often, customers complain about getting extensions which only lead to irritations and sore eyes. Chemical burns are the worst. So, Gollee, from time, takes its time to only acquire medical-grade cosmetic ingredients considered safe for the face. This way, they mitigate the risk of excessive allergy reactions.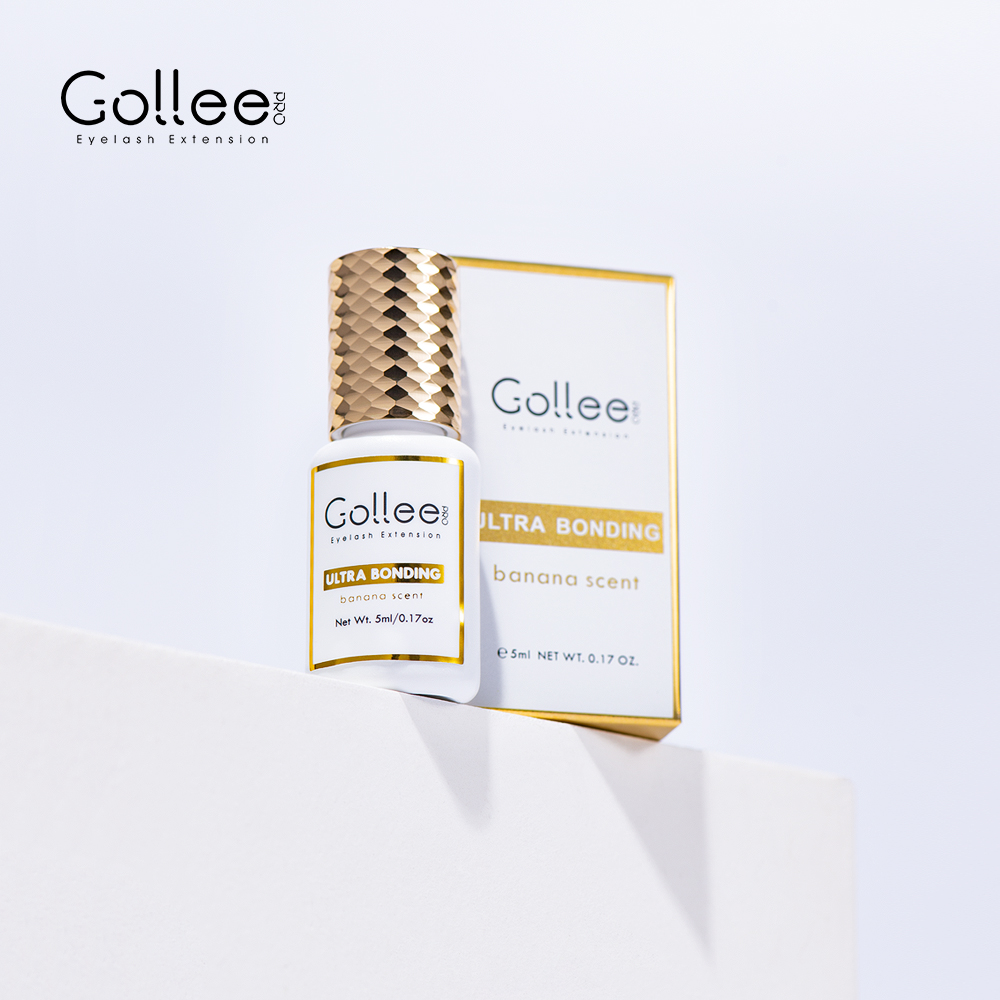 How to Use and Maintain the Gollee Banana Eyelash Glue
What is the point of having such a saving product on your shelf, but you only get to use it once? That won't be so nice. Especially knowing that this eyelash glue can go on for six months when you've not opened it. After opening it, the time for use reduces to about three months. Also, keep in mind that the recommended temperature is 22 to 24 degrees Celsius. And the humidity should be between 55 to 65%RH. Going as low as 40%RH may be considered at times.
You'd often find the nozzle sealed after purchase. This ensures your bottle is still in its best working state. To create a hole, you'd used the attached red pin. Also, note that you need to put the red pin on every time you wish to shake the bottle to prevent the glue from getting and sticking to the nozzle. However, take note of the following when done with each session to avoid clogging the nozzle.
Always ensure to squeeze out residual glue and air
After which, use a lash adhesive wipe to clean the nozzle.
Finally, close the glue cap and always keep the bottle upright on your shelf.
Conclusion
So far, we've seen the excellent workings of this special glue with the banana scent. With it, we get a perfect seamless bond, a gentle formula that doesn't irritate the eyes, and a flexible consistency. Will it benefit you too? Well, I believe so. And hope to see you ordering your package soon.