Your eyelash extensions look fantastic, which is terrific news. The bad news is: You must purge half of your eye makeup supplies. Wearing the incorrect makeup while wearing eyelash extensions can result in lash fallout and extension damage, drastically reducing the amount of time your lash extensions look full and gorgeous. Eyelash extensions can last for up to 4 to 6 weeks.
There are definitely benefits to using eyelash extensions. They let you get a cosmetic look that is literally no makeup at all by enabling you to flaunt thick, long, and fluffy lashes at all times. You can always count on your eyelash extensions to ensure that you'll wake up looking put together, but occasionally you might want to experiment with something new or add an extra burst of color to your eyes.
The wonderful news about eyelash extensions is that they make you look gorgeous even without makeup. However, even with extensions, we occasionally want to ratchet up the drama even further! What guidelines must be followed to avoid hurting eyelash extensions when applying makeup? Your lashes can be made thicker, deeper, and longer by using eyelash extensions. Depending on the method you use, it can appear as though you're wearing eyeliner. You can apply any type of makeup to give your eyes more definition as long as it is not waterproof and is oil-free.
Is your client thinking of getting eyelash extensions but is hesitant to use certain types of makeup? do they know what kind of cosmetics to apply? We'll explain which makeup products work best with eyelash extensions in this post, along with a list of dos and don'ts, so you may help your client enjoy wearing both their eyelash extensions and their makeup.
Can You Use Eyelash Extensions While Wearing Makeup
The allure of eyelash extensions is that they give you the appearance of wearing cosmetics even when you're not. But as a lash extension specialist, many of your customers will undoubtedly inquire if they can wear makeup while using eyelash extensions. The answer is of course absolutely! To help your lashes last as long as possible, you simply need to be aware of the cosmetics you're employing.
Any items with an oil- or alcohol-based component should be avoided when it comes to caring for your eyelash extensions if you have them. The use of products like lotions, creams, and moisturizers that contain oils on or near the lash line is not advised. Why do you inquire? Oil-containing products have the potential to weaken the bond between the extension glue and your natural lash, which could lead to a separation. Your eyelash extensions will last less time if you do this.
Rule Of Thumb A Lash Artist Should Always Tell Their Client For Eyelash Extensions And Makeup
Steer clear of items made of oil
The sensitivity of eyelash extensions to grease. You should always opt for makeup products that are oil-free because oil might cause the glue in your extensions to disintegrate. You must ensure that your daily skin regimen and makeup remover are oil-free (or have the least amount of oil possible) in addition to applying oil-free makeup.
Steer clear of waterproof items
At all costs, stay away from waterproof mascara and eyeliner. Waterproof eyeliner and mascara provide a challenge because they are nearly impossible to take off without an oil-based makeup remover. Your extensions will start to fall out early as a result of the oil disturbing the lash glue!
Do not use a lash curler.
You don't need to use a lash curler because eyelash extensions already have a natural curl. In fact, lash curlers might pull on your extensions unnecessarily, which is something we absolutely don't want! Eliminate the curler and embrace a straightforward makeup regimen.
Gently use items
Be more careful with how they are applied when you wear lash extensions. When it comes to eyeshadow, we advise blending in a smooth motion away from your extensions from your lid to your brow. Keeping your lashes from getting damaged when you apply makeup is key.
Remove products securely
Avoid oil at all costs, as we have previously stated, and will do so again. Use an oil-free makeup wipe to remove your makeup, then follow up with an extremely gentle washing procedure. And don't forget to use a lash cleanser to wash your eyelash extensions every two to three days.
How To Remove Makeup When Using Eyelash Extensions: A Guide
The most crucial step to having healthy, radiant skin is correctly removing makeup. This also applies to eye makeup. Cleaning them properly is key to keeping your eyelash extensions undamaged and as bouncy as on day one.
Here are our three suggestions.
Take off eyeliner, lipstick, and other "point" makeup that is difficult to remove.
Start by removing eyeliner, lipstick, and other dark-colored cosmetics as the initial step in makeup removal (in Korea, we call this point makeup). Normally, you would require an oil-based makeup remover to get rid of this kind of tenacious pigmented makeup. But if you want your eyelash extensions to last, you should choose an oil-free makeup remover with a powerful cleansing composition.
Because it can remove makeup residue without harming the lash extensions, this oil-free makeup remover is one of the best-selling products in the aftercare category.
This makeup remover is made to clean, calm, and nourish natural eyelashes while also gently removing makeup from delicate eye areas. The skin is left hydrated even after the makeup is removed since it contains calming natural elements like lotus flower extract.
How to Apply?
Remove eye makeup by rubbing makeup remover onto a cotton q-tip swab made of lint-free cotton. A lint-free, why? Lint-filled cotton balls or cotton pads can become tangled up in lash extensions and cause the extensions to fall out.
Remove foundation, concealer, and bronzer from the broader region of the face.
The next step is to remove makeup from the greater region after removing the "point makeup." The upper, under-eye, brow, nose, forehead, cheeks, and chin are included in this. Use a makeup removal pad that has been pre-soaked for this wider area of the face.
How to Apply?
Pick up a remover pad with the provided tongs, hold it against your eye or any other facial area for a few seconds, and then use it to wipe your makeup off.
Clean deeply between your lashes.
When adding a strand of eyelash extensions to a client's natural lashes during the eyelash extension treatment, a lash extension artist should do it 1-2 mm distant from the client's lash line rather than directly on their skin (applying lash glue directly to the skin can cause burns or glue allergy).
The eyelash line of your client may become more susceptible to bacterial development as a result of dirt, cosmetic residue, and extra oil from the skin accumulating in the space between the natural lash line and the lash extensions over time. Because of this, it's crucial to regularly use a lash extension cleaner on your eyelids and lashes.
On lashes with or without extensions, the lash extension cleaner can be applied every day. It maintains healthy, clean lashes without affecting the link between natural and artificial lashes.
How to Apply?
• Apply water to your face or eyelashes.
• A washing brush should be dipped in a tiny amount of Lash Cleanser.
• Use the foam cleanser to gently bathe your eyelid, lashes, and eyebrows for at least five seconds.
• Rinse with water completely.
• Dry gently with a towel free of lint.
• Apply mascara to your lashes and brush them.
Is It Okay To Wear Eyeliner With Eyelash Extensions?
Since lash extensions already produce a lovely eyeliner effect on the lash line, your client really doesn't need eyeliner when they have them. However, if they can't live without the cat eye, we suggest using a water-based ink eyeliner that is simple to clean.
Make sure the eyeliner is not too "waxy" or overly soft when selecting one to wear with their eyelash extensions. This could make it challenging to take off their eye makeup. It can be challenging to tell when little bits of eyeliner creep in between their lashes, yet doing so could potentially harm their natural lashes.
Additionally, the accumulation will cause their extensions to separate from their natural lash if they have a dirty lash line. Due to the adhesive nature of pencil liner, eyelash glue may disintegrate and fall out as a result. Advise your client to always refrain from using pencil or gel eyeliners because they leave sticky residue on extensions and lash glue and are very difficult to remove.
It's preferable to clean the eyeliner using a cotton swab dipped in a makeup remover and free of lint. Watch out for excessive rubbing or touching of the lash extensions by the cotton swab. To take off the makeup, use a cotton swab without lint.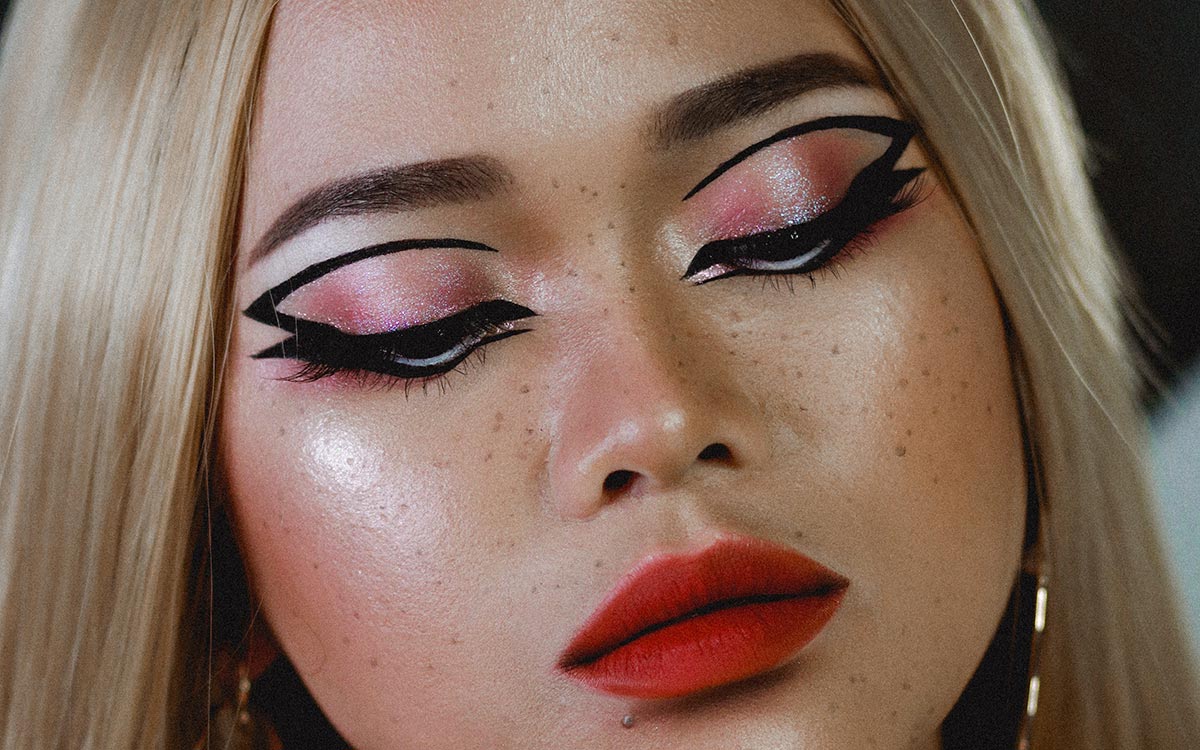 How To Use Eyelash Extensions While Applying Eyeshadow
Incorporating eyeshadow and lash extensions is something your client is thinking about. If you use eyelash extensions, you are aware of the need to occasionally apply eye makeup with particular care.
Why not draw attention to your eyes since they are your best feature? We'll walk you through a step-by-step tutorial on applying and taking off makeup while using eyelash extensions.
Step 1: Preferred eyeshadow is powder.
Choose an eyelash extension-safe eyeshadow formula if you're going to use eyeshadow. Although there are lots of fantastic formulas, not all of them are compatible with eyelash extensions.
The top 5 categories of eyeshadow are as follows:
• talc eyeshadow: These are the easiest to use, and a quick brush application will yield excellent results. These often come in a single solid hue and contain some glitter or sheen.
• eyeshadow in cream: These are a little trickier to apply than powder shadows and contain a little shimmer but not much sparkle or glitter. They often have more eyeshadow pigments than powder shadow products, so they last longer.
• Using liquid eyeshadow: These are typically more expensive than cream shadows, but they can give your lids a wet effect when applied with a moist brush or sponge.
• Colorful eyeshadow: The most sophisticated eyeshadow is constructed of many pigments of different colors that work together to give it depth and dimension on your lids.
• Eyeshadow in a stick or crayon: This kind of eyeshadow is the simplest to apply out of all of these, and it allows you to create an all-over wash of color that really explodes against your face.
Avoid using eyeshadows with an oil base at all costs. The oil can cause poor retention of your lash extensions by gradually dissolving the lash adhesive over time.
Step 2: Select the Proper Brush
The brush you use while applying eyeshadow while wearing eyelash extensions is crucial. One of the most crucial factors to take into account if you want to prevent eyeshadow fallouts is using the proper brush (when the eyeshadow falls and mixes with the cream products under your eyes). So, when applying makeup while sporting eyelash extensions, which brush should you choose?
Around the lash line, use a brush with firm bristles! It will be simpler to compactly and correctly apply your eyeshadow without getting any on your lashes.
Step 3: Removing Makeup Carefully
Even if it's not tough to remove makeup, it's much simpler to harm lash extensions if you're wearing them. Because eyelash extensions are glued to your natural lashes, this is the case. If you pull on your natural lashes, the extensions can also fall out.
When wearing eyelash extensions, adhere to these easy instructions to remove your makeup safely:
• Use a mild cleanser, like micellar water or wipes without any oils. When using lash extensions, anything containing oils is strictly forbidden. Oil can be used as a solvent to take out lash extensions at home.
• By patting the eyeshadow dry, you may remove it. Avoid rubbing abrasively from left to right.
• To finish your routine, wash your lashes with eyelash shampoo.
• Make sure you wash your face every day. For several days, avoid wearing makeup.
• If you adhere to these straightforward instructions, removing eyeshadow won't be a challenging chore.
• It's best to remove eyeshadow off your lashes as soon as you can using a cotton swab that has been dipped in oil-free makeup remover and is lint-free. It could become stuck in your extensions and result in skin infection if left uncleansed.
• For your extensions, keeping the eyeshadow as compact as possible is best.
Is Mascara Compatible With Eyelash Extensions?
It is feasible, but if you're not careful, applying mascara to eyelash extensions could endanger their lifespan. Let your client know that rubbing their eyes while wearing eyelash extensions is a bad idea since it will make the extensions fall out.
In this sense, pulling and rubbing while removing mascara can result in the shedding of both natural and extension lashes. The holes where some of their eyelash extensions have fallen off can be filled in by applying mascara while wearing eyelash extensions. Therefore, the answer is yes, you can wear mascara on lash extensions. However, to limit damage, let them avoid using water-proof mascara and go instead for a thin, lash extension-friendly mascara that is simple to clean. They can use mascara to fill in any gaps left by their eyelash extensions as they shed and reach the end of their useful life.
We advise gently combing your lashes with a spoolie first to separate and groom them so that you may apply the mascara without damaging the extensions. Make careful to only apply mascara from the middle of the lashes to the tips after wiping any extra mascara off the tip of the wand to prevent damaging the link between the extension adhesive and the adhesive on the lashes.
The use of mascara over fans should be avoided if you have a fluffy volume set. When you cover them with mascara, your gorgeous volume lash fans will close up. Try a lash growth serum in place of mascara if your natural lashes aren't thick enough to give you the volume you want. It's possible to use a serum with or without eyelash extensions.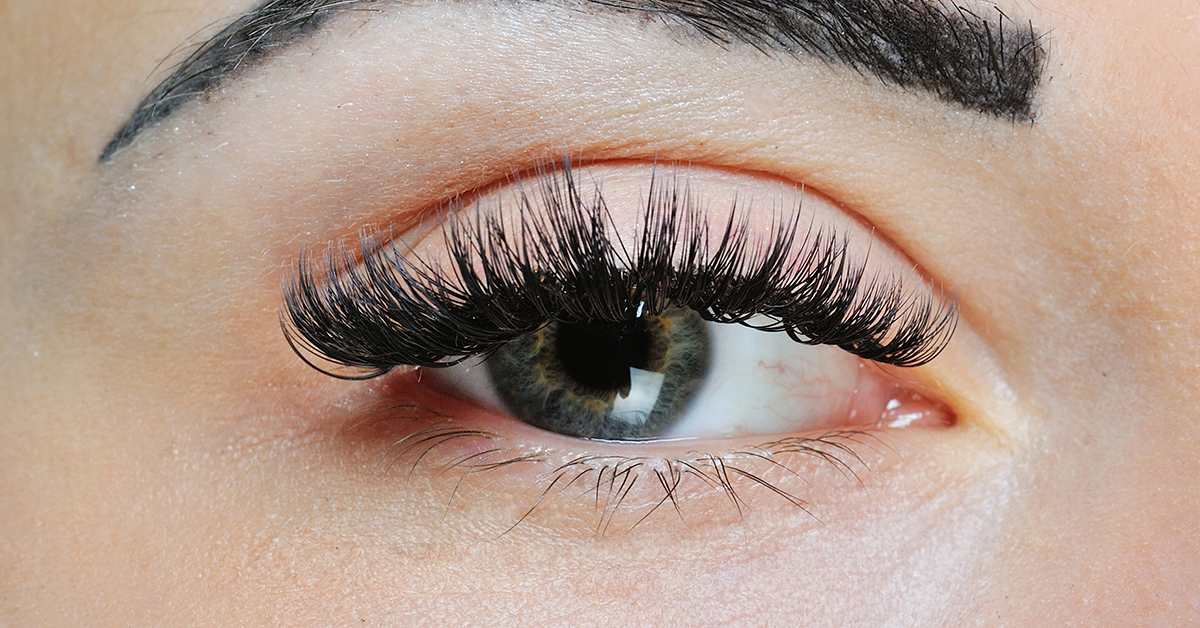 Conclusion
Your client now understands how to apply makeup and maintain the gorgeous appearance of their lash extensions. "Products around the eyes must be oil-free and simple to remove" when using eyelash extensions (oil breaks down the glue bond, after all). Your client's eyelash extensions will fall out within one to three days if they use oil-based cosmetics. It's crucial to apply makeup that won't harm this delicate application, whether they're a professional or merely using lash extensions on special occasions.
It could be difficult to decide which makeup items are best for your clients' new eyelashes, but the choices above should make this crucial choice less stressful for you. Make sure you advise your clients to check the ingredient list of the cosmetics and products they are using in order to prolong the life of their natural lashes and maintain the quality of their extensions. They've invested in their lashes, therefore they'll want to safeguard them without a doubt!