Breathing is one of the most important things, if not the most important, that we do every day.  When you think about it, most people can not go for two or three minutes without breathing, but most people do not pay much attention to their breathing because it happens automatically.
As social distancing becomes the norm, we must be creative and think of new ways to communicate with customers to help maintain safe practices.  While it can be tricky at first, it is absolutely vital that your and your customer's safety is ensured.  Health and hygiene standards in the beauty industry have always been imperative and now more than ever we must take extra special care
Likewise, it is important that lash artists do not experience any level of anxiety when performing treatments and should always feel comfortable doing so.  Do what you think is right and remember, your health always comes first!  It is essential that everyone appreciates it, it will be a community effort.  Give your clients one less thing to worry about when they show up for their next treatment, and your clients will be sure they return to a safe and caring workspace.
There are many theories about the effectiveness of face masks and whether or not you need to use them, and while the cutting-edge ones should always be given priority, we suggest that you wear a face mask while undergoing any type of beauty treatment to help maintain a high level of professionalism and security towards your clients.
Not only can they help limit the spread of infection, but wearing a face mask shows that you care and have considered your customer's feelings as well.  Your client can arrive with their own face mask;  however, as a best practice, we recommend offering a new sealed face mask to each customer upon arrival as part of your service going forward.
Let clients know before treatment that you will provide them with a face mask to help manage any expectations or concerns they may have. As a lash artist, you definitely need to consider what breathing means to you and your clients.  If you do not already wear a face mask, here are reasons why you should consider wearing one:
Why should I wear a face mask?
As an eyelash extension artist, you see different clients every day and in order to lash, you have to get up close to their faces.  Wearing a face mask will help reduce the chance of germs, viruses, and infections and will protect you and the customer as long as you wear face masks during service.  However, it's not just germs, viruses, and infections that you need to be aware of as a lash artist.  Below are 7 reasons why you should always wear a face mask during an eyelash extension session.
Germ prevention:
Most of us have had or will have that client who comes to get her eyelash extension done while she is sick.  When someone coughs, sneezes, and even talks, germs have the potential to spread.  Wearing a lace face mask prevents close contamination.  With a busy eyelash extension schedule, lash artists can not afford to get sick.
Be courteous:
Let us face it: bad breath happens. Most of the time it is unexpected and at the hands of the usual culprits: garlic, onion, coffee, etc. Whether you or your client take something on the go, it will undoubtedly affect the other. Wearing a face mask is the right thing to do so that no one finds themselves in an awkward situation.
Breath:
Better breathing improves the mind, body and soul. Think about how important breathing is to yoga and meditation. Anyone who has ever performed eyelash extensions knows that lashing is more or less a form of meditation, so why not look cute while doing it?
Professional:
A face mask is better suited to a professional beauty/lash artist than other options on the market.  Wearing a face mask not only looks good, but it is also professionally responsible given your work environment. Reassure your client that you take yourself and your client's lashes seriously so everyone can breathe easily.
Protect your health:
Lash artists use lash extension adhesives 4-8 hours a day. Whether or not your adhesive fumes are noticeable, chemicals, especially cyanoacrylate, are always present. Cyanoacrylate is strong enough to cause irritation to the eyes, nose, throat, and respiratory tract, as well as headaches, dizziness, drowsiness, and loss of coordination. Just as adhesive fumes can affect some customers, they can also affect you. Although exposure to cyanoacrylate in small doses is not harmful, what about constant exposure after months or years?
In general, chemical exposure is not just limited to lash products. The same can be said for other beauty products that we use on a regular basis, like nail polish and hair dye. The use of these products is part of our daily routine as beauty professionals. It is in our best interest to protect our health and wearing a face mask is the best preventive measure we can take to limit unnecessary exposure to chemical fumes.
Fashionable:
With a fun face mask, you can still be hygienic without having to look like a doctor.  A beautiful and personalized face mask is a must-have for any eyelash extension artist.
Convenient:
Buy a face mask that is ergonomically designed for eyelash extension artists to fit comfortably around your nose and mouth.  Investing in the right lash extension face mask will ensure that it is light, soft and flexible, making it easy to wear all day.
How should an eyelash extension face mask be used?
1. Before touching the mask, always wash your hands with warm soap and water.  Alternatively, you can use a hand sanitizer with a high percentage of alcohol for convincing.
2. Please use a new mask after each client and make sure the mask is not damaged.  It is important to know in which direction the mask should be worn in order for it to work properly.  If you are not sure, see the back of the box of each mask for instructions or check online.  There are several types of masks and they should be applied depending on this.
Lace Masks:
Hold the mask by the laces and place it on your face and nose and tie it securely behind your head.
Masks with ear loops:
Hold the mask by the ear loops and secure it by placing the loops around each ear.
Face Masks with bands:
Hold the mask against your nose and pull the top strap over your head, then pull the bottom strap down to the nape of your neck.
Regardless of the mask, you are wearing, you should always make sure it covers your mouth and nose.  It should also be pulled down to cover the chin for a secure fit.
Types of masks used in the eyelash extension industry
Fabrics masks
This mask comes in all colors, patterns, and designs, yet they offer little to no protection, especially against lash extension adhesive fumes.  Yes, they look great and you can coordinate them with your outfit but definitely are not the mask you want for good protection.
Disposable masks
These are one of the cheapest options per mask and with that you get low protection.  Yes, disposable masks protect to some extent, but they will not protect you from lash extension adhesive fumes.  These masks are popular due to their low price and although using this mask is better than no barrier, it does not protect against the vapor from the lash extension adhesive.
PM 2.5 dust mask
These masks offer more protection than fabrics or disposable masks, but still offer little protection from adhesive vapors.  Eyelash extension stylists love these masks because they come in different colored, patterned or lace finishes and are more elegant than most other options on the market.  Being in the beauty industry, it is in our nature to look for a mask that is more aesthetically pleasing, but please consider protection before purchasing these masks.
N95 with organic vapor reduction at a nuisance level
For eyelash extension artists, this is the ideal mask to use, N95 masl rated for nuisance levels of organic vapors offers protection from the harmful vapors of eyelash adhesives. These masks are also disposable, lightweight and economical.
Benefits of wearing a mask as a lash artist
Health reasons
The number one precautionary measure to prevent any spread of the virus is to wear a mask. You do not know if your client currently has a cough or a contagious disease.
Remain professional and courteous
The most important part of our eyelash essentials is wearing masks, we do not want our clients to smell our breath or the lunch we just ate, even if we brush our teeth after a meal.
Elegant and comfortable
We want to keep the style going no matter what happens. There are a lot of stylish designs to choose from and still be protected and safe as we do our most loving job: Lashing
Before the COVID-19 pandemic, face masks were already used by many eyelash extension artists, but are now a must for everyone in the beauty industry. It is more important than ever to protect yourself and your customers by wearing a face mask.
Eyelash extension artists are exposed to product vapors (mainly from adhesives) on a daily basis.  Do not worry, there are some precautions you can take to reduce your exposure to these fumes.  The use of the correct face mask can limit exposure: the mask used must have maximum protection and be suitable for reducing exposure to fumes.  Exposure to fumes is not something you should ignore, as they can have serious and long-term side effects, such as breathing difficulties.  Overexposure to the adhesive can cause cold-like symptoms, with a sore throat, wheezing, shortness of breath, nasal congestion, and headache being the most common symptoms.  Wearing a face mask may not fully protect you from these harsh chemicals, but it will definitely reduce your exposure significantly.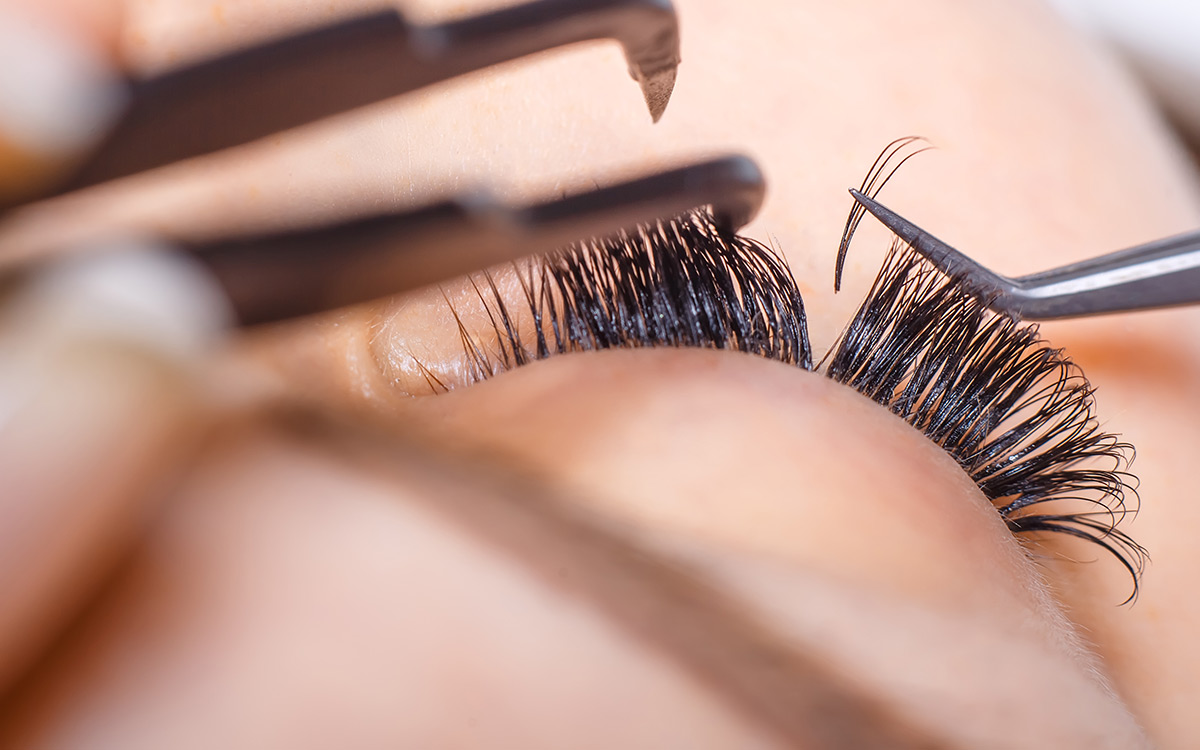 Tips to avoid adhesive exposure
For the eyelash extension artist, a good ԛuality adhesive is a key to producing amazing and long-lasting sets, but what if I told you that your adhesive could do you more harm than good?
There is one thing many eyelash artists don't always take into consideration when they spend countless hours lashing away, and that's their health. Inhaling the vapors of any eyelash adhesive can have serious health effects on you and your clients.
Each eyelash extension adhesive contains a small number of chemicals.  Two of these chemicals can have serious health implications if they are not protected.
There are several ways to reduce exposure to vapors other than simply wearing a high-protection face mask. It's about making small changes that will bring big results.
Instead of using a sticky ring, try using a jade stone. This will prevent the adhesive from moving around as much and the jade stone can be placed close to the client's head instead of around the face.
Keep your work environment well ventilated, some salons have ventilation systems installed. However, if this is not the case, keeping a window open nearby is better than no form of ventilation.
Completely dry the eyelash adhesive by simply adding water. This will help reduce the fumes emitted by the eyelash adhesive.
When you are done using the adhesive (you may need a new drop or finish a set/fill), you should always dispose of it in a container with a lid rather than an open container.  A metal container with a lid works best.
Does wearing a face mask cause eyelash retention problems?
Yes, it does!  A major change in the eyelash extension room scene during and after COVID-19 is that our clients now have to wear masks during the application.  This thin sheet of tissue can cause a lot of problems in eyelash extension retention.
Why?  Without a mask, the client would breathe normally and her breath would spread around the room.  However, now with the mask on the client's mouth, her breath is upward and spreads over the entire eye area while applying for the eyelash extensions.
Breathing is basically warm air. And blowing hot air on the lash extensions means adding an exponential amount of moisture to the lash extension glue.
Each time your client wears a mask, her breath will travel up to the lashes, causing the eyelash extension glue drying time to skyrocket due to the rise in temperature and humidity!  Poor retention is caused by the glue drying out before you have even placed the extension on your natural lashes.
Appointment policies you must have as an eyelash extension artist post covid-19
• Add a no mask, no entry policy (only those with valid health reasons that cannot wear a mask or cover). However, if you decide to deny entry to those without a mask, you can, it's your policy. It's a great idea to provide face masks in the salon in case a client forgets or does not wear a face mask.
• Implement a reservation-only, no walk-in policy. Customers must show up alone for the appointment, with no other friends or family waiting inside the lounge/docking area.
• Some salons have implemented a policy whereby customers must wait outside in order to enter the salon to prevent others from simply entering. Make it clear on the door and to your customers before they show up for your appointment.
• Check the customer's temperature with a thermal scanner before allowing customers to enter. If a customer refuses, you can refuse entry.
• Switch to contactless payment methods – it can be via contactless card payments, online bank transfers or PayPal.
• Add hand sanitizer to the salon and ask customers to sanitize it at the entrance.
• Ask your customer to cut down on the conversation, as this is one-way viruses can spread.
• Allow cancellations and reschedule appointments if the client has symptoms or feels unwell. Yes, this can be painful, but it is better than spreading the virus.
Conclusion
Overexposure to eyelash extension adhesive is known to cause cold-like symptoms, nasal congestion, sore throat, wheezing and headache.  Ongoing breathing problems caused by exposure to cyanoacrylate have been reported. As devoted eyelash extension artists, we can often be so overwhelmed with meeting the needs of others that we forget our own.  So I hope this article has made you aware of the possible side effects your adhesive can have on you and helps protect yourself as you continue to do what you love.
Comfort is key for any eyelash extension artist as you will spend long hours on your feet, often leaning over your clients. That is why it is important to put your safety and that of your customers first by using a mask for your eyelash extension session.